Class of 1962 Enjoys 30 Year Reunion The 30th RTB Reunion. It was great! We had 121 Redtags report in for merriment, nostalgia and talking about the good old days. I loved every minute of it. The high enthusiasm and good feelings it created in me lasted for a long time after I returned home as I'm sure it did for many other attendees. What inspired me were the many hours I had to talk to fellow Redtags and their wives, family and friends. Caroline has gotten to know many of the Redtags and their wives over the years, so she looks forward to it too.

We arrived in Colorado Springs after the informal party on Wednesday evening. The weather gave us a Colorado welcome, with some light snow still on the ground and temperatures in the 30s and 40s. It was a relaxing time in the lounge at a place called Cahoots in the Marriott. Friendships were renewed. Some after 30 years.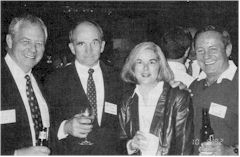 From left to right; "Gail" Peck, "Deke" and Judy Disnmore, and Mike Major. The next day was decision day: play golf or lose money in Cripple Creek. Caroline and I chose Cripple Creek. A busload of us headed to that mountain resort of long-lost silver and gold mines. Most of the quaint little shops were gone, replaced by dozens of quaint little gambling casinos. A few of the wives won several hundred dollar jackpots, but, overall, the bus was considerably lighter as we pulled out of Cripple Creek. After returning to the Marriott, we registered and picked up our memorabilia. That evening was the reception in the ballroom. The ranks of the Redtags were starting to bulge. (That's not a comment on our figures.) The upcoming elections and state of the economy (job security) were hot topics. It was a great time for talking and reminiscing about old times. Of course there were pictures of children and grandchildren to be shown. As my daughter says, we were "bonding."

On Friday, some RTBs played in the golf tournament at USAFA while others toured USAFA or took in some shopping at Old Colorado City. We went early to Old Colorado City looking for Southwestern pottery and other artifacts. Then we headed to the new AOG building, Doolittle Hall, at USAFA. What a gorgeous facility. I felt proud to see my name on one of the plaques as one of the thousands of contributors. I'm sure many of you felt the same way. The AOG put out a scrumptious lunch for us. Then it was a short hop to the squadron area to see how things had changed. More computers, more people in some rooms, bunk beds. Same basic hallways, rooms and facilities. The cadets looked really young. The same high caliber of persons and same camaraderie were still there. Every time we passed a doolie, he or she greeted us and added "Sink Navy."

We walked to Arnold Hall for a briefing from the Commandant and members of his staff. We got an update on the Honor Code, athletics, pilot training slots, academics and other subjects. From there we proceeded to the Cadet Chapel for the Memorial Service. The Cadet Chorale provided some superb accompaniment to the ceremony. Bob Staib paid tribute to three of our deceased classmates who were his roommates during upgrade fighter training.

Then came the roll call. As at previous reunions this was the most somber period of the weekend. As a single unit we shed our tears of love and sorrow for our departed classmates. That roll call of RTBs who have died is a heart-wrenching experience. I find myself crying again as I write this, two months later. It's an emotional experience that I feel very deeply but can't quite explain. I guess I feel badly because there are any names at all on the roll; I wish they could all be enjoying the 30th Reunion with us. As the memorial service ended, we switched our emotions to a jubilant state. John Flanagan and his fiancee asked the class to stay put in the chapel and celebrate their marriage. His best man was CMSgt Bill Coltrin. (Editor's note.- We regretfully report that CMSgt Bill Coltrin died on Thanksgiving Day of cardiac arrest.) How many of you can boast that you had 75 to 100 Redtags at your wedding? After the wedding, we lined up at the rear of the chapel for a class picture. (I didn't get any wedding cake!)
We headed back to the Marriott for a shower and change of clothes for the big banquet. The meal was exquisite. Dick Klass was emcee for the festivities. He introduced our guest of honor, Bill Coltrin, who addressed the gathering with words of enthusiasm sprinkled with a few laughs. He looked as good as he did five years ago. Jon Staples gave out the golf tournament awards. I didn't record the winners because I didn't know at the time that I would be writing this report.
"Butch" Viccellio talks about the Air Force of the future
Butch Viccellio, now the four-star commander of Air Training Command (congratulations on the promotion), gave us a look at the force structure projected for the Air Force and the changing missions the Air Force will have to contend with in the near future.
Dick Klass gave a roundup (Like that word? In the East it's a summary; in the West it's a roundup.) of the RTB fundraising efforts: 25th Reunion - $10,123; 30th Reunion - $17,160; Total - $27,283. We exceeded our $25,000 goal so the display cases for the Doolittle Hall Assembly Display Area will be ordered.
Thanks to everyone who contributed to this worthwhile effort. Our thanks also to the Reunion Committee for planning such an outstanding event: Jon Staples, Carol Staples, Tim Gilmartin, Gretchen McNaughton, Jack Swonson, Yvonne Eaton, and Chet Griffin.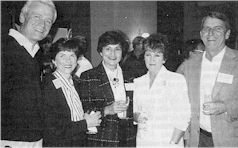 The festivities were followed by dancing; it apeared that the class had not lost its touch on the dance floor. After the music stopped, a pack of us lingered on for more convivial conversation. The cleanup crew evicted us from the ballroom so they could clean up. We adjourned to Cahoots for more bull-slugging and WHITLG (We Had It Tough Last Generation) yarns.
Dave and Ann Whitman, Connie Hawkins, Caroline Jamba, Owen Hawkins

The weather had been warming up for the past two days. On Saturday, we were blessed with a spectacular sunrise and clear blue sky. After breakfast, we gathered at the USAFA parade ground stands for the Wing Parade. The cadet wing looked good but not as good as we looked in '62. (Well what did you expect me to say?) We had a special seating area reserved for us. A small prop-driven aircraft did a low altitude buzz from behind the stands and dropped a thousand or so blue and gold ping pong balls on the stands and the parade grounds. (Thank goodness the sales clerk didn't give them golf balls by mistake.) The Navy had successfully bombed us. It was a good 'gotcha' and provided a good laugh. As the parade progressed, we were asked to step onto the field in a special area for the Wing Pass in Review. Our salutes were as good as they ever were. Great parade. Brought back fond memories.
After the parade, we stopped by the souvenir shop and then went to the tailgate party at the stadium. Another great event. Warm sunshine, good food, great companionship. "It doesn't get any better than this," said Andy Banford. From there we trudged off to the stadium in the distance and walked up what seemed like 800 steps to reach our seats. Reminded me of the trek from the North Gate when we opened the Academy in 1958.
The game was pure nostalgia. Wing march-on and cheers. Cadets streaming from the field into the stands. A sky diver delivered the game ball. An integrated formation flyby of B- I and F-15s. A-10 and C-130 flybys. Push ups behind the goal posts after every AF score. Falcon flying demonstration without the falcon flying away. As two-touchdown favorites, we were lucky to get the 18-16 win on a field goal with less than a minute on the clock.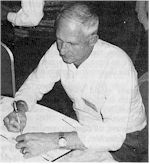 Trudging back to our cars we were sunburned but exuberant. Went into a local bookstore to buy a copy of Flanagan's book about his FAC days in Vietnam. (I've mentioned it before in my column.)
John Flanagan autographs copies of his newly released book; "Vietnam Above The Treetops".
Back to the Marriott. Shower and change. Down to the scrumptious buffet (they told me to say that). John Flanagan autographed his book for anyone who wanted it. Chet Griffin showed his slide presentation consisting of slides from our most private collections. The slides were shown on two or three occasions during the reunion. Boy were we in shape back then. Since our last reunion, many of the varsity jocks have gotten smaller while many of the nonvarsity jocks have gotten larger. It was an evening of unadulterated fun and laughter.
The next morning was pack-n-go time. There were fond farewells and promises to get together soon. Out to the airport and back home. Another memorable reunion; nothing like it in the world. Can hardly wait for the 35th. I know I left out some things; please send me a note on anything you would like to see mentioned.
One last note: Randy Schamberger has volunteered to put together a collection of memories from the 30th Reunion. Send him copies of pictures with names and descriptions together with quotes of note, thoughts, feelings, or anything else you would like to see in the collection. You should have received a letter in December from Dick Klass giving Randy's address. Let's all help out Randy on this project. See you all again next time. Go Redtags!