February 1999
Hi Redtags! It is Christmas time again and I don't have to do anything except edit the many newsletters and emails I have received in the past three months. So I'll start off with one from Ted and Marcy Dykes. Marcy's Mom is now living with them and doing well at 80 years young. Ted still has his consulting business and trying to set up one on the Internet. Marcy is still being the watchdog in local politics. Chris is still in the medical equipment design business and Tammy is in Monterey, CA., where Montana pursues his MS degree.
Got a card from Don and Rose Shepperd with a picture of them and the Bows in Grand Cayman Island.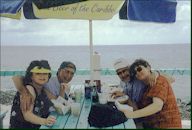 Heard from the Gail & Peggy Peck in Las Vegas. Gail's Mom lost a three- year battle with cancer. Peggy won a long battle with cancer after three operations. She says don't neglect swollen neck glands. Gail has two part time jobs at Nellis: 1. Range control officer for Red Flag exercises and; 2. Academic instructor at USAF Weapons School, teaching the F-15 as well as C³I and Instrument Refresher Course. Gail also has a 6 Pax Cessna 210 for mountain flying. Gail's Dad is living with them now. Daughter, Elizabeth, is doing great as a senior in high school. Jennifer will graduate from UNLV in 2000 and is also making the parents proud
Bill & Sue Haugen also wrote. Bill is still working the V-22 Osprey program for Boeing. Sue continues with her many activities. And they both did a lot of traveling this year to visit both sides of their family. Their children have started families of their own and are scattered around the East Coast. Cindy and Elad had their first child in Pittsburgh; another grandchild for Sue and Bill. Linda, Caise plus 2 kids live in the Washington area. Michael and Stephanie are in Grad School at U of Penn.
Got a newsletter from Owen and Connie Hawkins. Owen still has his Internet provider business, is taking high-tech computer classes and working on his golf game. Connie continues riding and showing her horses, helping with the Charity Horse Show, teaching Sunday School and other interests. The big news is that son, Colin, is engaged to a young lass named Maureen. They both reside currently in New York. Cory is substitute teaching; Greg is organizing a start-up Internet company; Chris is a consultant for Deloitte & Touche; and Kim continues work on her film documentary. Owen and Connie continued their travels by revisiting Hawaii, seeing their third Total Eclipse in the Caribbean, rafting down the Grand Canyon, and visiting old friends in Africa.
Heard from Larry and Penny Gooch. In late April, Federal Data Corp decided that they needed Larry in Pasadena, CA., as a division manager. Just after the short notice move, Larry had to miss the birth of Jessica to Jennifer and Jeff. Then Laura and David announced their impending birth. Penny babysat the other grandchild while her parents moved into a new home. Larry and Penny will be happy with three new grandchildren in 16 months.
Got a letter from Allen and Alfie Jackson. They went to Louisiana twice to visit Cathy, Darren and grandkids. Then Cathy and the family visited them in August. Time for fishing, crabbing and boating and total exhaustion. Rusty and Tracie live only two miles away so there's plenty of time for babysitting and visiting.
Heard from Chuck and Debbie Cheeseman. Chuck is revamping his Ximango touring glider business by setting up regional distributors. Canadian certification of the glider was obtained after many months of paperwork. Things look good. Debbie and her partner continue to expand their quilt design venture, "Look Who's Kidding." Little Charlie (5) turned his parents into "Soccer Moms." Emily (8 ½) continues her dancing and piano. I met Chuck at KSC when he went on Emily's field trip. Maybe we'll get together again this coming year.
Charlie and Pat Hale sent a letter. Their older son, Charles, continues to battle with his illness. He is now being treated by a spinal specialist for what may be related to a traffic accident which occurred three years ago. New treatment is underway. (We wish him the best.) Curt and Bridgette continue their time-demanding work. Charlie is busy with his credit union work, making two trips to DC to promote legislation. The Hales had some family visits and one from Redtags Stan and Mary Anne Patrie. The Hales also went on a few vacations including a 35th anniversary trip to DC. By the way, I received a card from the Patries indicating that they are in temporary quarters in Charlotte while their new house in being built in the nearby mountains.
Dave and Fran Lee dropped a line. Dave was selected to teach a five week course at the Univ. of Augsburg in Germany. There were 40 Univ. of Dayton students also at Augsburg. Since he only taught three mornings a week, they had plenty of time to travel and shop. He did such a great job, he has been invited to return in 2000 for five more weeks. Kelly and Dean will become parents again in April. David II works for a property management firm in Dayton. John works in mortgage lending in Denver and has season tickets to the USAFA games. He also joined them at Augsburg for 10 days.
Charlie and Mary Jo Price sent some news. They really enjoyed an extended trip in the Northwest, touring Portland, Bend and Eugene. They also visited friends in Venice, FL, and the North Georgia Mts. They spend lots of time with Mary Jo's folks who also live in Valdosta. No holes in one for May Jo this year. Charlie is OK with that.
Willie & Nancy Gray had some good news to share. They bought a new house over in Suntree which is about 10 miles from here. Then Willie retired from Lockheed Martin. Too much road travel and family separation. Now Willie is a house keeper while Nancy does her Montessori teaching. Daughter, Christine, received her PhD in Clinical Psychology from the Univ. of FL and now is in Jacksonville at the Nemours Children's Clinic. Her husband, John, is completing his PhD course work. Larry is managing the Garrisons restaurant in the Atlanta area.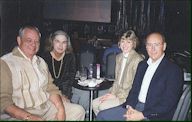 Got a letter from Paul Landers. After retiring, Paul became the Director of Aviation and Travel Services for Amway Corp in Grand Rapids. He oversees one of the largest corporate jet fleets in the country plus executive ground transportation, shuttle buses, executive motor coach, company yacht, and the Orlando Magic's 737 jet. He and JoAnne visited Las Vegas recently and spent time with Gail and Peggy Peck. See enclosed picture. Son, Scott, flies for American; Keith will graduate from U of Georgia in May and hopes for Law School; and, Paul is at Spartan in Tulsa finishing his degree looking for a career in flying.
Got an email from George Thompson. He is an itinerant professor travelling between Pskov, the St U of St Petersburg and the State Pedagogical U and other places. George was planning to visit his daughter in Poland at Christmas and be joined by Alice. Alice was then going back to Russia with George. He really likes the emails from the Redtags. Makes him feel he is not alone. The river is frozen. Hope you get that teaching position in the US when you return.
Someone sent me an article about Bob Davey being elected as Mayor of Duarte, CA, near Pasadena. Bob was a first-term councilman and the Mayor Pro-Tem of Duarte. The article said that Bob had Masters and Doctorate degrees in Aeronautics from Caltech as well as an MBA from Pepperdine. His wife, Julie, teaches Journalism at Fullerton College. They have been married 36 years. Way to go Bob.
Got an email from Bob Staib. Their third daughter, Missy, recently got married. Fellow Redtags, Jerry and Freddie Smith were there. Bob has been in NetJets (Executive Jet Aviation)for three years selling fractions of airplanes. The company was recently purchased by Berkshire Hathaway and has spent over $3 billion buying new airplanes. Bob expects the company to grow in the years ahead.
Got an email from Pete Robinson who is doing some consulting work for a New Mexico location. Art and Sandy Farrington are living in Atlanta and pumping their new venture with BigPlanet.com. Ted and Leslie Neff are involved with ExcelOnline. Com. Walt Herter was trying to find out about digital cameras on the Redtag Net. He got some advice from Steve Mettler, Randy Schamberger's son, Rick, and Tom Rausch. Walt also said that his son, Larry, is a naval aviator flying S-3 aircraft assigned to the Carl Vinson in the Arabian Gulf. Their mission was to deliver gifts to Saddam. The ship has its own website. So crewmembers can email to friends and family. Walt forwarded a copy of one of Larry's emails to give us a snapshot of Navy life.
Got an email from John Flanagan that he was going to appear in a Vietnam Documentary which was taped a while ago. The series received good acclaim.
An email from Joe Guilmartin recommended reading Mark Berent's Vietnam Novel, Eagle Station. He says to see if you can match the episodes with the real Redtags.
That's it for now. Any other newsletters I receive will appear in the next issue. Thanks for all your help. Keep the emails and letters coming. Go Redtags!