May 1999
Hi Redtags! Hope things are fine for everyone. I sent a plea to the Redtags on the net asking them for input or I would use the last 100 emails from Colin RICHARDSON, Carl BOLSTER, Sam DEHNE, Tom YOUNG and Randy SCHAMBERGER. I only got a few responses. I guess our classmates didn't think I would inflict such grievous harm on the class. Here's what Walt HERTER sent to me on that subject.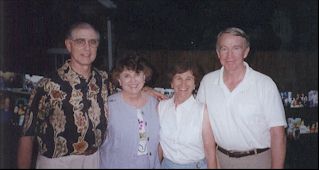 I Got a picture and short note from Don SHEPPERD. "Enclosed is a picture of Rose and me and Tom and Mary Bath KEANEY at Tom and Mary Beth's 'surprise' 35th wedding anniversary party hosted at their Falls Church, VA, home by their children. Friends and family flew in from all over the world and the kids really pulled off a surprise. It was a heart-warming event with wonderful speeches about Tom and Mary Beth as parents and friends. Rose and Mary Beth were sorority sisters at DU (Delta Gamma) and it has taken them all these years to live down the shame of dating cadets."
"Here is something you may want to use for your next Checkpoints Column. I felt compelled to send this to you in hopes that you don't have to use the last 100 e-mails from Colin, Sam, Carl, Tom, and Randy. Actually, I enjoy all the chatter on the RTB network. It puts a smile on my face at the end of the day. But I don't need to see it again in Checkpoints.
Anyway, my son Larry is assigned to the aircraft carrier Carl Vinson which has been in the Persian Gulf since mid-December. The ship is scheduled to be there until early April. Larry flies S-3 aircraft. He is a Navy Lieutenant now. The Vinson has been involved in the activities in the southern no-fly zone in Iraq that we have been reading about since December. Unfortunately, "no-fly" seems to be a misnomer, as it sounds rather congested there at times with Navy, Air Force, the Brits and even Iraqi aircraft all no-flying in southern Iraq.
Larry says that over the Christmas holidays he received hundreds of letters and e-mails expressing encouragement and support, including many from RTB's. He sends his thanks and appreciation, which I wish to pass on to those who sent messages. I will be meeting the ship at Pearl Harbor in late April on its way back from the Gulf. Some Dads (and some Moms in the new politically correct Navy) will join the crew and sail with them from Pearl to San Diego. I am looking forward to being with him and experiencing life on a naval ship of war at sea for a few days. Nothing to do but eat and sleep, Larry says. Two hour meals just to pass the time." Thanks for the mail, Walt. Best of everything to your son.
Also got an update from Gail Peck. To wit: "No major inputs from the desert west except to say that we continue to be OK. Saw PK ROBINSON and Rita fairly recently and they were doing great. PK is running the Armed Forces Bank at Nellis and other bases in the SW. Lost the bubble on PERLOTTO and haven't seen DEBERRY in a while. I'm teaching at the Weapons School and enjoying being a captain again. That's it from the Vegas RTB crowd as far as I know. Personally, Peg is getting good checkups and we are hopeful that her problems are behind us. Oldest daughter Kayte is now the publisher for two major national sports magazines (Snowboarder and Skateboarder), second daughter Jenn is running for student body prez at UNLV and youngest, Liz, is making a strong finish in high school (As student body VP) and getting ready to follow sis at UNLV. Older boys are also doing OK. Dog Marine partner landed our airplane gear up, so I'll be delayed, nominally, on making the no-notice hospitality checks promised in the Christmas letter.
For those of you RTBs that are Fighter Weapons School graduates, there is going to be a 50th reunion in Las Vegas over the weekend of 20 Jun and the days that precede. All grads are invited. Check the Nellis home page and then search under units and WS windows to find details. If that fails, email me at home at: gtwestern@aol.com and I will put Cindy McKinney, FWS librarian and project person, in touch. Be prepared to accept that it is now the Weapons School and no longer "just" the Fighter Weapons School. That means Space, Intell, Command and Control (GCI, RJ, CC, etc),
HH-60 Search and Rescue (GUILMARTIN, I talk about you all the time – Bet they would love to meet you), and the bombers in addition to the fighters and attack crowd. Festivities include a memorial monument dedication on the 17th for fallen WS grads - three RTBs come to mind (OLSON, DRYDEN, AND FOX) – there probably are more ." Thanks for the news, Gail. Looking forward to seeing you in the skies over Florida.
And now an email from Bob LIGHTSEY. "My wife and I had Lanny LANCASTER, his lovely wife, Barbara, and Scott FISHER over to dinner at our house recently. It was good to see them both after a substantial length of time without seeing either. Both Lanny and Scott are doing well.
Lanny continues a long time consulting career with a growing wine importing career. He is bringing in wine from France and resells it to restaurants, so we are talking about substantial quantities here. I gather his biggest problem is meeting the demand. As best I gather it, the consulting business pays the bills which enable Lanny and Barbara to travel to France to investigate the finer points of the product. It sounds as though this is going to develop into a pretty good (and Pleasant) business for Lanny. He brought five or six bottles of excellent wine (as best I recall the evening) to dinner and we all enjoyed sampling them.
Scott is doing consulting with a company that primarily does work for the State Department. Scott, as you may recall, has experience and education in African affairs, and I gather his most recent work has been in bridging the gap between policy makers and those charged with making it happen – in this case the US Military. I think he has been working with the Army in developing plans that involve their activities in Africa. I may be a little light on Scott's activities, because he was across the room from me, and the wine fans were discussing the wine with great gusto as the evening wore on. Take care." Thanks Bob. I haven't had word on Lanny in a while and Scott has been silent for even longer.
I also got an email from Walt WICKLEIN. "I finally got connected to the Red Tag site after several unsuccessful attempts. I have enjoyed reading the e-mail from our classmates. I am now living in MD where I own a wholesale nursery specializing in water gardens and aquatic plants. I have two sons Erik and Matt who are also involved in the business. They and their wives have given us three wonderful grandsons. What a deal. If we could only have grandchildren with out having first been parents it would be a perfect world. My wife and I have been married for 34 years (she has been most patient). If anyone gets to the Baltimore area please contact me so we can get together."
Got an email from Clint SEARL after he joined the Redtag Net. He's living an idyllic retired life with his wife on a farm outside of the Philadelphia area. I lost the email and that's all I remember. So much for steel trap memories. Now where was I?
John FLANAGAN went to the Aloha Bowl to see USAFA play. He came back enthused about writing a story about our trip to the Cotton Bowl during our Doolie Christmas period. That sparked many emails of excellent recollections; and some of not too accurate memories. Don Shepperd had a collection of memorabilia that his parents put together. Colin Richardson used his search engine to find many old newspaper clippings of the game. And we all heard some good war stories.
That's it for now. Please keep the letters and emails coming. Go Redtags!