September 1999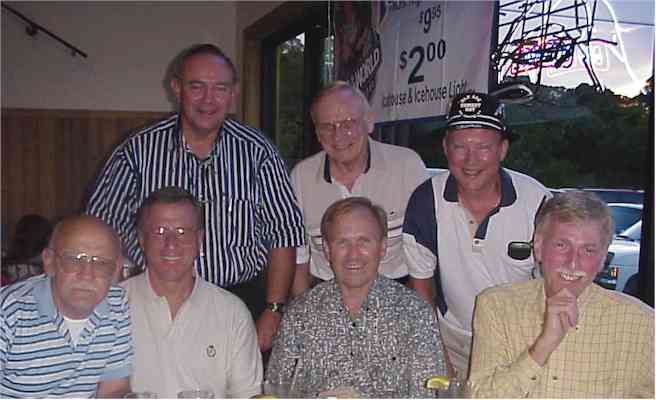 Hi Redtags! There were six Redtags at a classmate's wedding last Saturday (June 12) in Melbourne. Lots of fun and happiness. But more about that later.
First, I have a letter from Gary BAUGHMAN. Gary says, "I was in Palm Bay in September of '98 but I didn't get a chance to let you know in advance. Sorry. I was picked to manage the United States Team Trials for the 1999 US Freeflight Model Airplane Team. I spent three days watching and officiating a competition between America's best glider, rubber model and engine powered freeflighters vying for a chance to be on our team going to Isreal in 1999 to fly against the world's best modelers.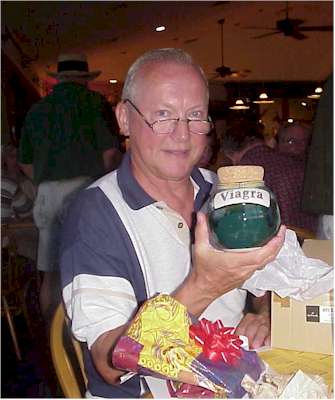 And now back to the wedding last weekend. On Friday evening, six Redtags gathered in a local restaurant to give a batchelor dinner to none other than Fred HENDRYX. Colin Richardson and I drove over from Satellite Beach. Jim Gallagher flew in from Salt Lake City and Carl Bolster flew in from upstate New York to Tom Young's house in the Tampa area. Then they drove over to Melbourne. And Chuck Cheeseman drove down from the Daytona Beach area. And Fred came over from Indian Harbour Beach. We really went haywire getting wound up on the caffeine in the iced tea. I had to leave after two hours to pick up my wife at the airport but not before I made sure some of us took our high blood pressure and cholesterol pills. I'm thinking about hiring myself out as a nurse at future reunions. Colin went home, Chees drove back to Daytona and Tom and Jim stayed with Fred. The next morning was partially cloudy and the rain held off until after the wedding, which was very nice since it was an outdoor wedding.
The lovely bride, Helen, looked radiant as did Fred. Great ceremony and reception. It was done at the retirement community where Fred's Mom lives. Everything was going along peacefully until Fred introduced many friends and relatives in the crowd and then got to us. He placed us in a corner away from the civilized crowd, so we got up and sang him a hymn, a cleaned-up hymn. He was anxious as we started the hymn but not embarrassed as we finished. He changed into some leisure clothes and as we were getting ready to depart, we asked for a last group picture. He obliged and we crowded around him, swiftly picked him up, and headed for the pool. I opened the sliding door to save it from imminent destruction and readied my camera as they cleaned out his pockets of delicate things and money. I took the picture as he flew through the air and soon discovered that my camera had maxxed out. No picture. But we got a nice haul from Fred's pockets. Those retirees hadn't seen an old-fashioned pool dunking in ages. They were still buzzing as the Redtag horde left them in a swirl. See accompanying photoes.
Jeannie and I were in Wilmington, NC in January on business. We called on the EATONS and had dinner with them on their 35th wedding anniversary! It was a great evening. JD and Yvonne ...looked young enough to be celebrating their 10th anniversary instead of number 35." Gary and Jeannie are finishing a basement renovation project. Gary can look out of his home office onto the Kennesaw Mountain Civil War battlefield. He is researching to find out if his great-grandfather was in the area with the First Ohio during the Civil War. Gary is playing with a local tennis team to build up his stamina. He still flies and builds model airplanes including indoor models. He plans to compete at nationals in a class that can fly over 30 minutes on a 10" loop of 0.045x 0.040 rubber. ( I'm trying to imagine what that must look like and am having a hard time picturing it. Must be an incredible hobby.)
Gary said, "Three of four kids are married, no grandkids yet. Careers seem to get in the way. These young ones are a lot different than our generation. Look at all they are missing, huh? Just thought I would appear out of the murk and check in....let us hear from you." Thanks for the update Gary. Have a great year.
Got a short email from Willie GRAY, from all the way on the other side of Melbourne. He said, "Just received May 99 Checkpoints and wanted to express my appreciation for being spared the last 100 emails from Colin (RICHARDSON, that is). But I would like to get back on the Redtag network. (Isn't that something. We have others who are lining up to get off the net and Willie is trying to get on the net.) I seem to have lost out when I switched from Juno to AOL. Please email me the site address. Am enjoying new home and "parttime" golf course job. We need to get together for dinner before the next reunion." I read you, Willie. Willie and I kept promising to get together for dinner for years. We only lived 1 mile apart. We finally did it...at the last reunion. We'll get together soon, Willie.
On the Redtag net, Grant LANNON mentioned seeing a showing of the film, Return with Honor, which is about our POWs returning from Vietnam. He commented, " Amazingly, the film was sponsored by the USAFA Association of Graduates with a grant from McDonnell-Douglas." That prompted a message from John FLANAGAN , "I had been aware that the AOG had been working on securing the financing for this production for a number of years. I guess that not too many others had been aware, so thus you were amazed. Also, the Class of '66 I believe, funded a special collection and oral history archive at the Academy Library. That was the genesis for the film. The opening night was at USAFA, but unfortunately not many of us from the East Coast could attend. I'm pleased that the film was so well received at your showing – so many have contributed so much to this country, particularly our POW classmates, without recognition or appreciation of their sacrifices. I had the privilege of meeting John FER's Cadet son at the academy a few years ago. A fine young man raised in the RTB role model."
And Flan's email prompted this from one of our classmates who I assume didn't want his name to go beyond the Redtag Net. To wit, " When 'Return with Honor' premiered at the USAFA I decided to sneak in. (It was for the Cadet Wing only; and POW guests as I was to later learn.) I put on a suit, acted like I knew what I was doing and walked into Arnold Hall with this older guy, also in civvies. As we were going in, this gent turned to me and said, 'Come on, sit with me so I won't feel so embarrassed.' Turns out this gentleman was one of the 'stars' of Return with Honor and I was truly the embarrassed one since after the movie, Dick Coppock introduced him to the wing – and of course he stood up – and the Wing rose as one to applaud him and I'm sure they were wondering who the idiot was standing with him. Anyhow, bottom line is that the movie is a good documentary of those terrible days for the POW's. I recommend it – and apologize that I have forgotten the man's name I sat with, but he was a cool customer. " Thanks, Mystery Redtag. Sounds like Return with Honor is a "must see" film.
That's it for now. Keep the cards and letters and emails coming. Go Redtags!