Spring 2001
Hi Redtags! It's been almost a normal Spring here in Florida. The cold fronts have been more frequent but the rainfall is dangerously sparse. Another Space Shuttle is in orbit and the International Space Station will get a new crew.
Got an email from Dick SCHOOF off the Redtag Net. "I am still working and just recently encouraged my wife, Joan, to retire from teaching. Retiring teachers can participate in a Retirement Opportunity Program (ROP) which pays several hundred dollars and encourages the retiree to return to 'the scene of the crime' in various capacities. The benefit is that it encourages senior (expensive) teachers to leave but saves on some substitute costs. Now if they had that in the Air Force it might encourage me to try and fit into that 1983 blue suit I used to wear everyday. It appears that some of our REDTAG associates are well into retiring. Are there any really good lessons learned on retirement?" Thanks for the update, Dick.
Sam DEHNE was discoursing with Gail PECK about Gail having to give up his house for airport expansion in Las Vegas. Gail said: "Taking our house is a good deal for us. We were ready to upgrade anyway and this provides that option without closing costs or realtor fees and it comes with relocation service including complete packing and moving." I guess some people are just lucky.
Got an email from Walt WICKLEIN: "Got your e-mail off the blather net. Thought you might be interested in something that happened the other day. I received a package from a lady in Indiana that contained the cap and red rain cover that I threw to the heavens on graduation day. She had kept it all these years and finally went to the AOG for my address. She enclosed a nice letter stating that she worked at the academy and attended the graduation and picked up the cap as a souvenir. I have five grandsons, four of them are 3 years or younger. One of the three year olds likes tractors so I bought him an antique John Deere which I am going to restore. Its great what we can use our grandchildren for when we want new toys." Thanks for the interesting story about the cap on Graduation Day. Hope all your flowers bloom as well as mine have this spring.
Got this email from Butch VICCELLIO: "Hi, Sumo...Lots going on with the Viccellios, but that's been the case with us for some time now. New leadership at USAA (am I included in that phrase) brings lots of financial management skill to the table, and with the company's growth that is underway, really keeps us busy. How do you spell retirement? But we have no regrets choosing San Antonio as a place to live. Great friends after three active duty tours here, super weather, unlimited supply of breakfast tacos, and the SPURS!! I think that Jack SWONSON's reassignment as our main man at new operating location in Phoenix has already been noted in your column, but he is the perfect choice for the job. Since he is hiring and others are laying off, you can imagine how he sits with the Chamber of Commerce! I gave him a map last week with every golf course in Phoenix on it. Knowing him, it won't go unused. Speaking of Swony and Redtags, we were at offsite in Tampa last week and went out to eat with Bill and Gayla KNIPP and Roberta SCHAUMBERG. Bill and Gayla just purchased their very own ReMax franchise...Bill is doing the agent recruiting now. If anyone is relocating to that area....Bert spends her time at the area golf courses when she is not visiting daughter Jill who lives nearby, or son Terry who lives here in San Antonio. So we get to see her once in a while. As for us, daughter Pilar is MBA student at Wharton and son Ben is trying to make it in the entertainment world in L.A. Tough league, but the kid has talent...although I have no idea wherefrom! So...the pace is no slower than on active duty, but enjoy working for the company that served me so well for nearly 40 years...and rest assured, the outfit is in good shape. I do hear occasionally from one of you whose experience wasn't what you felt it should have been, but get positives far more often. Don't hesitate to let me know how we're doing...remember, we're the owners! Enough for paid political announcements." Thanks, Butch, for the update.
I got a late Christmas Card from TK and Virginia MOORE: Their older daughter, Elizabeth, continues her work in the Bureau of Western Hemisphere Affairs at the State Dept. Son, James, is a USMC Major and flies the President's helicopters. Younger daughter, Kate, is now occupying a new house with husband, Maurice and two sons. But Tom and Virginia went on the trip of a lifetime to South Africa. Four days in Cape Town followed by several days in the Mala Mala Preserve and the Kruger National Park introduced them to sights of cheetahs, zebras, leopard, lion, elephants and many more. Tom only got 850 pictures but they were all "necessary." Tom went with high hopes for the trip and was more than delighted with what he saw. Virginia went along to humor Tom and discovered that she really enjoyed seeing the animals in their natural settings. It was one of the most enjoyable trips they have ever taken in their 36 ½ years together. Thanks for the newsletter, Tom.
Got a late Christmas Newsletter from Dick and Liz KLASS. "The millennium started off with a blast with friends on Bainbridge Island and a bang in mid-January when Raytheon Aircraft underwent a reorganization that left Dick without a chair when the music stopped. Based on Liz's job, Dick's business prospects and the location of many friends, returning to Arlington, VA., was a natural. Our home is now the world headquarters for Dick's new consulting firm, Klass International Network, Inc (Kin, Inc) and for CCA Federal Operations(if you can do it from Wichita, you don't need a DC office)." They co-located both companies on the lower floor while the upstairs was under renovation. In October they made the annual trek to USAFA for the Navy game. In November, Dick got a surprise dinner for a significant birthday. (I don't care how much Rogaine he uses, it wasn't his 50th.) They managed to host a family reunion at Christmas 2 hours after the renovation was completed. Thanks for the update. And good luck with the new house and new business location.
And this email from Bill HARVEY: "Hi, Jack. Glad to hear from you. You okay? Looks like Florida has clearly become your once-and-always home...I seldom send anything in for Checkpoints but just decided to do so briefly for some unclear reason. Mainly, I guess, it's a chance to communicate briefly with you as it looks like getting down that way may be a long-time-a-comin'. As my parting shot at the working world I decided to go back into knock-down-drag-out clinical practice in Houston for a little bit. Working with a life-support contractor at JSC was immensely frustrating...and I think maybe my age outran me there. The thrill was just gone. I'm specializing, if you can fathom this, in a single infectious illness: late-stage neuroborreliosis and already have an over-full practice. This is one of the really controversial "illnesses" of the time, and I figured I'd never get a handle on it unless I jumped in and really started to get a feel for these patients and the related state-of-the-science as it evolves. So far, I'm beyond anything I can get from books, and I kinda like it out here "on the edge". I/we are making progress, and for me, it's good to feel part of something in the process of evolving big-time. (I just have to cover my...(as you fliers say, "six"), since working outside limited existing medical models can get one hauled before state medical boards in a hurry. But at this late age, what's to lose?) Not being good at the military stuff, and being an aloof sort (read "really insecure and fearful") at USAFA, I nevertheless finally start to see the priceless value of having been there. Just some ability to think with my feet on the ground, insist on evidence, and to think systematically is now paying off. I wouldn't have had it any other way, and begin to see the gifts each of you gave me. Thank you. I may crash and burn on some crowded Houston freeway before I get this project complete, but at least this has been good for me. And I hope for a few others. Equally important, though, to my Red Tag brethren, I've finally come to see a little bit...and want to say...that it was really good to have been given the chance to be among you." Bill, Thanks for that touching tribute to the class. We feel proud that you are one of us.
And this from Randy SCHAMBERGER: "Not much new here. Don't know if Al JACKSON mentioned anything about it, but John FLANAGAN was here at Eglin in February. Al got a group of Redtags together for dinner as Guiseppi's Seafood Restaurant in Niceville. John was visiting his stepson (a USAFA grad) who is stationed at Duke Field. In addition to Al, John and his son, Dick HOFFERT and his friend, Helen, and Lieu and I attended. We had a great time reminiscing and John took some pictures. You'll have to contact him for copies. If he's like me, it'll be a couple of years before he gets them developed! We really missed Alfie (Al's wife who passed away last Spring). Al's got his cup full since it's tax time again. I'm still playing tennis full time and Lieu is sitting on the sidelines until the stock market makes up its mind where it's going. That's about it. Hope this helps if you need some space filler." I needed the space filler. Thanks, Randy.
Got this one from Hesh ALTMAN: "Bobbi and I returned to Las Vegas just over a year ago. I opened up an office for a small defense company based in Virginia...western version of beltway bandits. I have about had it dealing with DOD, though. Looking for a position as a school crossing guard or something equally as stressful. Bobbi and I have a nice house on the far west side of town. Two guest rooms if any RTBs happen through the area. If you are in the mood for luxury, my son, Joel, is one of the managers at the Venetian Hotel. He and wife Heather are expecting our first grandbaby in June. Daughter, Jodi, is in the process of opening her own chiropractic office on the east side of town. According to the business plan I did for her this weekend, she can start supporting me in about three years." Thanks for the update, Hesh.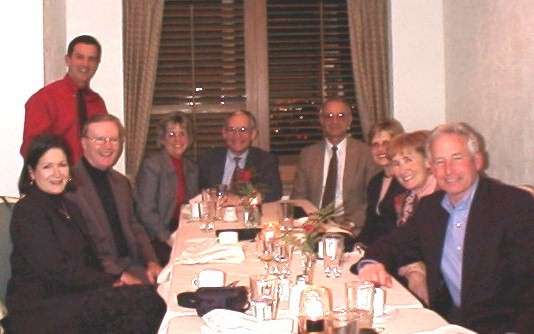 Got this from Chuck TURNER. "We had a Dallas-Ft Worth area Redtag get-together. Jerry Smith was good enough to organize the outing (at one of Tuck's favorite restaurants.) From left to right in the photo are: Peggy and Bob KEIGHERY, Jerry SMITH (standing in red), Marianne and Bob STAIB, Chuck TURNER, Freddie SMITH, and Ann and Tuck MCATEE. Most of the evening was spent swapping old war stories or talking about creaky old bones; although there was a discussion about planning for an early Fall Texas and neighboring area Redtag mini-reunion. Jerry said he will put out the word." Thanks for the info, Chuck.
That's it for now. Start planning for the 40th reunion. I'm looking forward to seeing you all there.
Go Redtags!