Summer 2001

Hi Redtags!

First of all, I asked Jim Mack for the latest word on the 40

th Reunion. He sent me this reply: "Heads up Redtags for our next reunion gathering. Clear your calendar for October 9-13, 2002. We have reserved the Wyndham Resorts Hotel (formerly Marriott) for the festivities, lies and doughnuts. Our Falcons will be battling Navy that weekend, always a good game! Mailings for the reunion will start early in 2002. If you have any questions in the meantime, give me a call @ (719) 488-9522 or Blue4mack@msn.com. Be there. Aloha!." Thanks for the reunion news, Jim. I'm really looking forward to the 40th.

While our topic is reunions, I want to plant a seed for discussion. I think we should have reunions more frequently. Our numbers will be dwindling more rapidly and waiting five years to visit with each other will be too long a period. During the off years between reunions at USAFA, we could meet in other parts of the country to give members who can't make reunions because of distance a better opportunity. Also, we can plan reunions at good vacation cities so that those of us who want, can stay around a few days for a vacation. Think about it. Let me know what you think.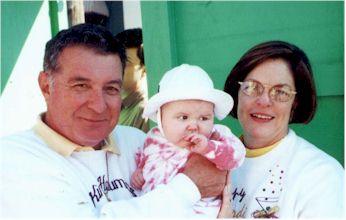 Got a letter from Logan Babin with a picture. His letter said: "Last year Anne and I took our daughter, Kara, her new husband, Hunter, our son, Logan III (Hank), and his wife, Carrie, to Lanai, Hawaii, for the January 1, 2000 celebration. Nine months later Carrie presented us with our first grandchild, Logan Elisabeth Babin. See accompanying picture. Logan Elisabeth is already a Mardi Gras lady, enjoying the parades and catching beads and stuffed animals from her father and papa. She should be Queen of Houma's (Mardi Gras parade) in another 19 to 20 years. Boy, will I be old then, although I still intend to be riding a float on Mardi Gras Day. Hope to see everyone at the 40th class reunion next year. Logan." It looks like Logan learned that it will cost him a trip to Hawaii for every grandchild. Ha.
Now an email from Bill Haugen. "Hope all is well with you. Sue and I finally got to Italy a couple of years ago - Rome, all over Tuscany, Florence and Venice - absolutely wonderful! It brought back memories of our cadet ramble from Rome back to Rhine-Mein, on leave after the Northern European field trip - John Carroll, Pete Flynn, you and I. John's cheeks turning red every night after one glass of wine; 3 out of 4 of us had motor scooter accidents on the Riviera; the very young Italian waitress in Florence that we sent post cards to for years afterward; eating day-old items from a bakery to cut costs; a top floor no-view room way back from the beach on the Riviera - with a triple bed and a single bed for 4 of us - because that was all we could afford; traveling by train at night so we could save another room fee; the station master waking us up in in the morning in the waiting room by hitting our shoe soles with a rail spike; etc.
Our son Mike graduated with top honors from the MBA program at Wharton two years ago, and his wife graduated this May from the Veterinary School at the Univ of Penn. So we now have 3 doctors among our 3 kids and their 3 spouses. Linda's husband is a Phd in the Air Force, Cindy's hubby is a neurosurgeon in residency at U of Pitt, and now Mike's wife is a veterinarian. As Sue wryly observed, we "really planned well" because we didn't have to pay for any of the doctoral training! In December I had the pleasure of pinning Lt Col leaves on Linda's husband in Washington DC. I wore my uniform, with only one inch of 'assistance' needed in the waist band - not bad after almost 12 years of retirement.
Walt's graduation hat story reminded me that I had to fight off a Catholic Father for my hat. I wanted to keep it so I only tossed it about 15-20 feet straight up. I was on the left edge of our graduation formation and by the time my hat came back down a young priest had launched himself through the air with the result that we both caught it. Significant convincing was required that it was indeed my hat - and I was going to leave with it - before he would let go! Best Regards, Bill " Thanks for all that news. Funny hat story. By the way, I went back to Europe with my Mom and Brother in 1965 and we found that cute little waitress in Florence. She was hoping to go to the States for College.
And got this from Jack Swonson. "Jack, Seven of the eight Red Tags and their wives located here in Phoenix got together for dinner. The group included Bob and Ginnie McNaughton, Larry and Sandra Jensen, Rudy and Betty Bow, Dick and Patricia Sell, Frank and Judy Urban, Jack and Malinda Anderson, and Jack and Polly Ann Swonson.
| | |
| --- | --- |
| | |
| L-R; Frank Urban, Jack Swonson, Jack Anderson, Dick Sell, Rudy Bow, Larry Jensen, and Bob McNaughton | L-R; Malinda Anderson, Polly Ann Swonson, Patricia Sell, Ginnie McNaughton, Judy Urban, Sandra Jensen & Betty Bow |
The only couple unable to attend was Fred and Barbara Fiedler, who vowed to make the next one. It was great catching up on everyone's activities over the past few years, hearing about children and grandchildren, reliving the past, etc. On a personal note, I moved to Phoenix on 1 April (living in an apartment) and Polly Ann will join me as soon as our house sells in San Antonio. Yesterday, our USAA team occupied the first of our two new buildings on our large site (575 acres) here in northwest Phoenix. We will begin taking calls from members before the end of July. The master plan for the total complex (25-30 year timeframe) is being developed for 30,000 employees. San Antonio will top out at 20,000 and hold that level; it will also remain the corporate headquarters. Kids are fine. Son Jack switched from the active Air Force to the Texas ANG and is flying F-16s out of Ellington AFB in Houston. He recently remarried a beautiful lady whose son turns five this month. Daughter Heidi, her husband Bill (USAF Urologist) and their four children will spend one more year in Ramstein before returning stateside. All for now. Thanks for all you do for our class! Cheers! Jack Swonson." Thanks for the update and the picture. See you at the 40th.
Got this interesting email from Otis Dinning. "We went Space-A from Norfolk NAS to Bahrain and commercial from Bahrain to Kuwait City. A long trip, but the price is right and it was definitely worth it to get to spend two weeks with Deanna, my daughter, her husband, and our 3 grandkids. This was our first time in the Middle East and we had a great time seeing the sights in Kuwait City with our family. Deanna is a Physicians Assistant and works part time at Camp Doha, an Army Base donated to us by the Kuwaitis after the Gulf War. Kuwait City and Manama, Bahrain, are very modern cities. with great restaurants and large malls. Things are more expensive there. If you're looking for gold, Kuwait City has it. Take Care. Otis Dinning aka Buckshot & Double O." Thanks, Otis. Enjoyed the info about Kuwait. Keep in touch. If you have some photos, please send me one for the column.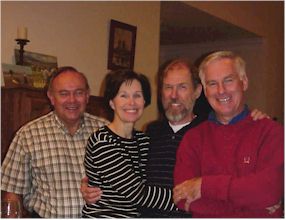 When I went to Atlanta recently, Steve and Kathy Mettler were kind enough to host a small Redtag gathering with Gary Baughman and me. Accompanying picture shows me with Kathy & Steve Mettler and Gary Baughman. We had a great evening, reliving old times and solving the world's problems. Both the Mettlers and Baughmans are doing well. ------->>>>>
Got a late Christmas newsletter from John (Deke) and Judy Dinsmore. They had another grandchild, John Robert, last November. He was two months premature and had to stay in the hospital for a while. But then he moved into a new house with Mom & Dad, and close to Deke and Judy. Judy occasionally drives from San Antonio to Houston to babysit with Jackie's two children. Deke completely retired last September. He was busy with honey-dos around the house. He was diagnosed with prostate cancer in October and had his prostate removed in February. He had very little post-operative discomfort and is almost fully recovered with no negative side effects. The cancer was caught early and had not spread to any other area. Judy says that wives should insist on their husbands having a PSA test annually. Judy busies herself with quilting, sewing and babysitting. Thanks for the update. Please let us know how Deke is doing.
I got a long letter from Kirk Vaughan, from Muscat, Oman. He's teaching for the state-sponsored university in Oman. Most of Oman is uninhabitable desert. Muscat is modern with nice restaurants and malls. Kirk teaches three sections of business communications classes per semester. The students are required to wear traditional garments. The men and women enter the classrooms from different doors and sit on their own side of the rooms. Classes are in English. The Sultan shares the oil wealth with the populace so there is not a lot of poverty evident. The Omanis love their cars and roads are being built fast. Some villages in remote areas have housing that has probably existed since the days of Mohammed but they have electricity and TV. I have more of Kirk's letter, which I will save for future issues of Checkpoints. Thanks, Kirk, for the news. And have fun in Muscat. Please send a photo of you and Rosemary on some of your travels in Oman.
Got an email from Niels Jensen. "Our pilot training class had a reunion in San Antonio. John Fer, Rick Perlotto, John Luebbermann, Gary Lentz and I enjoyed sharing memories from Laredo circa 1962-3. Of the living graduates, all but one attended. Our class was rather unique in that 100% graduated from 64A Pilot Training Class at Laredo AFB." Thanks Niels. How about someone in the group sending me a photo.
Now this from Don and Joan Hutchinson: "Jack, Well, my uncle, my son, and I took that B-17 ride and it was great. Got to sit in the bombardier's position in the nose and play with the Norden Bombsight. They have really restored it as closely as possible to its 1945 condition. You get a lot more respect for the 10 guys that had to go into combat in it. Noisy and loud, windows wide open, and not a hell of a lot of room to move around. I highly recommend it, if you ever get a chance. Just wanted to give you the update I promised and let you know that Joan (my wife of 35 years as of yesterday) and I will be going to England for two weeks in September and visiting some old English friends at RAF Lakenheath. It was our first assignment after Luke and F-100 school. We are really looking forward to it. Hope all is well with you and that you have plenty of news for this issue of Checkpoints. Don" Thanks for your help with the news, Don.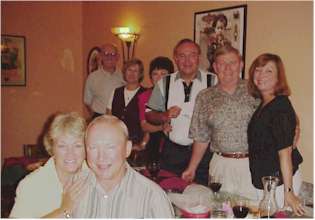 Shortly after returning home, I discovered that some of the world's problems had cropped up again. I quickly assembled another distinguished group of Redtag problem-solvers in secrecy in Melbourne to have another try at those pesky world problems. The accompanying photo shows Helen & Fred Hendryx in the front row, having escaped from Cincinnati's harsh winter for a few months. In the back row are Willie & Nancy Gray, Caroline & Jack Jamba, and Bunky & Connie Reeves. The only couples missing were Mike and Kay Butchko and Colin and Marge Richardson. If you notice that the world is a calmer place now, we take full credit.




That's it for now. Keep the emails coming. I'll put out another call for updates in three months. I'm actually getting this column finished one week early. That's a record for this wait-until-the-last-possible-minute class scribe. Go Redtags! See you at the 40

th!