Fall 2001
Hi Redtags!! Well, I'm in my normal last minute crunch to get this column finished tonight. The events of last week in New York, Washington and Pennsylvania have certainly been shocking and mind-boggling. (But I can't use that as an excuse. It's just my natural propensity to put off anything possible until tomorrow.) I was sent home from Kennedy Space Center for 1 and ½ days and sat glued to the TV. The devastation was terrible but the heroism, support and camaraderie were tremendous to see. Really made my old heart feel good about my fellow Americans. The support from people all over the world was uplifting, too. (I'm getting teary putting my thoughts on the page. Lots of pent-up emotions.)
Got an email from Bill HAUGEN. he said that after 12 years with Boeing in the Philadelphia area, Sue and he returned to Washington, DC, in August. He designed Sue's dream house and is building it. (Where are you going to live, Bill? Hope Sue appreciates your sacrifice and lets you visit.) Seriously, great news. Good luck on the new house. Keep me posted on any news.
Got an email from George THOMPSON. He returned to the US in June and is the new Headmaster at the Patterson School in North Carolina. He loves being back and is enjoying it very much. He misses Russia a bit. Hey, George. How about recalling some memorable events of your life in Russia for my column? Something that not many people would know or realize.
Now I have an update from Gail and Peg PECK. I sent an email on the Redtag Net with a picture of an F-4 flying low over an airfield, below and between the roofs of hangars. The pilot was grounded after that. Here's what Gail's response was. "That's a great pix and story, Jack, but that ain't low. But it would take both (you insert the word) and a willingness to give up flying jets forever to do it over an airfield and between the hangars. Not a smart act, but an impressive pix. I suspect Bevo and others will remember when we used to fly F-4s down Death Valley indicating well below sea level on the altimeter. Less than half the length of the jet AGL – Above Ground Level. Maybe we're the reason you can't fly low over National Parks anymore.. .
Oh well!! A chance for a Peck update to all. Health is holding A-OK at this point for Ms. Peg. Business Week featured the drug that is saving her in their 9 July cover. The miracle has been spawned at the U of TX Medical Center aka MD Anderson in Houston. People facing cancer should take their case there. They accept Champus/TriCare. Moving to a new house in Dec or Jan as the airport is bulldozing this one as an expansion project." (The pending demolition of Peck's house was brought to you in a previous Redtag column. We scooped the world and beat all other quarterly magazines to press with that unfolding human-interest story.) Construction of the new house was scheduled to begin in July. "Gail is still teaching at the Weapons School at Nellis and enjoying it very much. His Dad at nearly 86 is still hanging in there. All kids and grandkids are doing fine." Thanks for the update. We are all glad to hear that Peg is doing well.
Got an email from Judy WOOD. She misses Daryl very much. She has moved to Citrus Heights, CA. I have her address, email and phone number for anyone wishing to correspond with her. She'll be at the 40th reunion next year. Drop her a line. I know she will appreciate any contact.
The planned mini-reunion in Dallas-Ft Worth is just 2 days away, assuming that the events last week have not resulted in a cancellation. If it comes off as planned, please send me pictures of the gathering.
In my last column, I said that I would use some of Kirk VAUGHAN's last letter because I couldn't fit it all in the last column. Kirk is a Professor of Business Communications at the College of Commerce and Economics in Sultan Qaboos University, Muscat, Oman.
"Oman is located at the eastern end of the Arabian Peninsula. The country covers a relatively large amount of real estate, but almost two thirds of it in uninhabitable desert. The university is located just west of the Muscat area. Muscat itself is quite modern, with several fancy hotels and commercial centers (the local phrase for mall). This fall I had a total of 70 students, mostly in technical writing. The students all wear the national dress: the men in white ankle-length garments called dish-dashas, and the women in black ankle-length dresses called abiyas. The women wear black scarves and the men wear white pill-box type hats, with ornamental patterns embroidered on them, called kummas. But I have a feeling that if the national dress weren't required, the students would be in t-shirts and jeans in a heartbeat.
Although the official Oman position is to support the Palestinian effort, the government does not encourage extremist organizations, so the climate here is reasonably friendly towards westerners. When the Palestinian riots first started last October, there were a few campus demonstrations, but they orderly and well-controlled. The demonstrations were meant more as symbolic support than as evidence of student anger. Because the Sultan shares the oil wealth with the citizens, there is not a lot of poverty evident."
Thanks again for those words, Kirk. They help us understand another country in a part of the world where we lack knowledge. May your employment there remain tranquil.
Got an email from Al and Gerri SIGMAN. "I, like most RTBs, have been a bit remiss in communicating with you. Gerri and I have 5 grandchildren, ages 3-7. They are a real treat. Two are here and three are in Chicago. I am still in residential real estate with RE/MAX Masters, working in Denver and the southern suburbs. The only other Redtag I have seen lately is Bob SCAUZILLO. I helped Bob and Suzanne sell their home in Monument. They are currently living on the south side of Denver but plan to move to Seattle soon.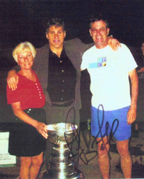 Gerri and I had an incredible experience this past weekend. Our neighbor for the past year has been Ray Bourque, of the Colorado Avalanche. As you probably know, the Avalanche defeated the New Jersey (know anyone from there?) Devils in Game 7 to win the Stanley Cup. At about 3:00 AM, after the win, Ray came driving up the street blowing his horn and we all came out to see what was going on. In the middle of the street was the Stanley Cup. We had a great time for the next two hours – got to hoist the cup and have pictures (one attached) taken with Ray and the Cup. Wow! What a treat!
Hope all is well." Thanks, Al, for the story and picture. The photo shows Ray Bourque with Gerri and Al on each side of him and the Stanley Cup on the ground in front of them.
And lastly some words about Sam DEHNE's battle with City Hall and the Airport Commission in Reno, NV. It is apparent that Sam perturbed the city and Airport Commission officials. Sam lodged a comment in a public forum that there had been a suspicious meeting of two Reno officials in Dallas and a subsequent move to reverse a decision which benefited the Mayor, who was one of the officials. After the Airport Commission dismissed the complaint by Sam, they then found him guilty of violating two Nevada statutes and fined him $5,000. He appealed the decision and the magistrate that heard the case said that she will rule against the Commission's actions. It was basically a violation of free speech. So Sam has the ACLU on his side, too. That's the way to fight them, Sam. Besides attending every Airport Commission, Reno City Council, Washoe County Commission and Reno-Sparks Convention & Visitor Authority meeting in the past five years, Sam finds time to visit hospitals and other institutions to give 15 performances per month singing his favorite tunes. Keep it going, Sam.
I guess that's it for now. Keep the letters coming. The next issue will probably have a deadline on or about 20 December. Please send your Christmas newsletters before 15 December so that I can get them into the column. Remember that when you receive this issue, you only have about 2-3 weeks until my next deadline. Have a Merry Christmas and Happy New Year.
Go Redtags!