December (FALL) 2002
Hi Redtags. The time is getting close to another Space Shuttle launch. One is scheduled for 2 October just as our 40th Reunion is getting underway. I shall be in Colorado Springs by then, enjoying the cool temperatures of the Rocky Mountains. I'm looking forward to seeing all of you again and getting plenty of things to write about in the next 25 columns.
First this word from "Spud" Goldsmith. "Thanks for the payers for Sis. Somewhat cautiously, it seems the prayers might be working. She's had two successful biopsies of spots in both lungs now and both turned out to be non-cancerous. There are other symptoms that are confusing to me. My niece, an experienced nurse, said the docs seem to be as confused as I am...more tests, more tests. But the news seems to have started a turn for the bright side. Even my other niece there, also an experienced nurse, has become "less pessimistic"...It's somewhat against her nature to be optimistic. So thanks to all. Please keep on praying. There are still many obstacles to surmount. But it seems to be working. Yor Fren, Z" Thanks for the update, Spud. We will continue to pray for her recovery.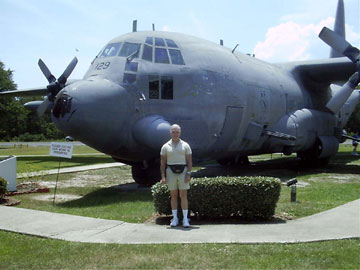 I asked the Redtag net for inputs for this column and got the following response from Randy Schamberger: "OK, Jack. Here's something I've been meaning to mention to you but keep forgetting. A bit of Nostalgia if you please: The attached picture was taken recently at the Air Force Armament Museum here at Eglin. I'm standing in front of the first airplane I flew after Nav training. It was the first C-130 off the production line, #53-3129, and was a JC-130A back in 1963 when I was stationed at Patrick AFB. It was loaded with antennas and telemetry gear and used for missile tracking. We flew around the world in that airplane in support of all the early missile launches:Minuteman, Polaris, Atlas, Ranger moon shot, etc. When I came to Eglin in 1985 it was flying out of Duke Field as an AC-130 gunship. It was retired to the aircraft display at Eglin AFB in 1995. I retired in 1990, but coincidentally we began and ended our careers together. Standing in front of it brought back many memories. I'll attach the memorial marker on a separate e-mail. Hope this helps fill space if you need to - thanks, Randy." Indeed it was great space filler; very nostalgic.
And now a short burst over the nose from Sam Dehne. "Jack, 1200 words limit for the Grad's Column? That's as bad as Reno city hall limiting Sam Dehne to 3 minutes at the Public Comment podium... and buying a $1,000 computer clock and big gavel... to make sure he doesn't exceed the limit by one second. Here's a brief little report that might be of interest (79 words): "Sam Dehne 'masterminded' his son's 'campaign' for Reno mayor.
Their budget was 97% lower than the 'front runners'. If they had had even 1/2 the money of the finalists... they would have gotten 3 times more votes than the finalists got. Candidate DEHNE had more specific information about his platform than the rest of the candidates (7) combined. [DEHNE for Mayor - http://www.renocitizen.com ] The election result proved once again that in America big money rules. DEHNE will be back." Thanks for the input. Keep plugging. "Illigitimi non Carborundum est" or whatever that Latin saying was.
In mid-August, I went TDY to Pensacola and gave the Pensacola Redtags a call and request for a get-together. They arranged a dinner meeting in a great restaurant downtown, McGuires.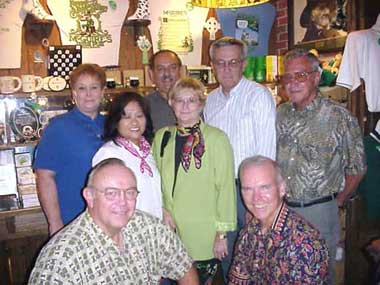 Had a great time. None of the Redtags looked a day over 70 and that's the honest truth. The ladies looked too young to be in our company. But they managed to ward off advances from other men and hang in there with us. Ed Martinelli announced that he was on the verge of retiring from Boeing and planning a retirement move to Colorado. Bonnie intended to go with him. Randy Schamberger was still trying to get his shoulder in top shape to play tennis full bore. He had an operation for his rotator cuff. Al Jackson still misses Alline. But he is doing well and looks great. Dick Hoffert is still enjoying wedded bliss after his sealing of the vows last spring with Helen. Between the entrée and dessert, we solved the world's problems and developed a plan for financial success for the world. How's that for fast work. It was good to see everybody and most of us plan to be at the 40th.
And this came in from the Checkpoints staff. "In light of the academy's approaching 50th anniversary, the Academy is seeking inputs on squadron patches and ask that you include in your column a blurb asking your classmates if any of them know of the creation, history, and significance of squadron patches. If they do, please ask them to send the information to Duane Reed at Duane.Reed@usafa.af.mil. Mr. Reed is the Head of Special Collections at the Cadet Library." You read it here. We scooped the Wall Street Journal. Please help the academy with their squadron patch research.

Got this from Bill Haugen: "On 21 September we hosted a potluck dinner at our house for all Washington DC area Redtags, as a "warm-up" for the 40th Reunion. A great time was had by all 26 folks who came. The following Redtags (most with their RTBabes) were present: Minter Alexander, Don Baucom, Ted Dykes, Ken Fisher, Nick Fritz, Bob Gibson, Chet Griffin, Don Hallager, Bill Haugen, Harlan Johnson, Dick Klass, Bob Lightsey, Dino Lorenzini, and Tom Moore.

Thanks, Bill. I guess that's it for now. Got to get this in the mail. The next column will be 2500 words long and have 6 pictures. Go Redtags!