June (SPRING) 2003
Hi Redtags, Well, there is a lot going on in our world. Personally, I was shocked to see the loss of the Space Shuttle, Columbia. Then the USAFA Sex Scandal captured national headlines and elicited some emotional responses from our class. Now we are fighting in Iraq. And we are continuing the fighting in Afghanistan. What an emotional time! But now we move on to Redtag Class news.
Got an email from John FER. "Dear Jack, I am writing from work as I have to stay late for the science fair here at school. I just finished Checkpoints' RTB report and was so moved by the sad side of the report that I had to make contact with you after too long a time. I wasn't able to attend the 40th because being an elementary school principal occupies so much time. I have no Asst. principal so I have to double as the disciplinarian as well as administrator and I teach literature courses as well. I unplug toilets, clean the cafeteria, and change light bulbs as well--no need for three people for the latter!
The pix look great except, as I noted, for the untimely deaths of Kent and his wife and Gail's wife's death. I got some drift that you have a touch of Alzheimer's, is that so? I hope you have it under control. (Jackís Note: That was my attempt at self-deprecating humor. I had better tone it down a bit before someone carts me off to a rest home.) I often think of your generosity toward me when I was in Thailand. The kids in the school love the war stories about VN--which I put in perspective for them. I have been the principal here at Beatitudes of Our Lord for three years and have decided to move to a position of the same capacity nearer San Pedro, CA, where I live and was raised. La Mirada, where my present school is located, is 45 minutes by freeway but leaving at dark and returning at dark doesn't give me much of a home life. Nancy and I are at home alone now, John ('98) is in a silo at FE Warren, Paul is teaching in MD, and Theresa is about to graduate from college in VA. Both of my sons, especially Paul, really get into the "Dad what's an RTB"? Please give my RTB best to all you meet--I will try to be more forthcoming with info in the future. Got to run across the lot to the Sci Fair. All the best, John Fer." Thanks, John. Great to hear from you again. We missed you at the Reunion. Look forward to seeing you at the 45th. And tell your son, John, that I know what it feels like to be in a silo at FE Warren. Did it for three years.
On a sad note, in early February I learned from Tom HUTCHISON that Bill MANNION was in a hospital in Green Valley, AZ., with terminal cancer. A few days later, Tom informed me that Bill had passed away. Here is an excerpt from an email I received from Billís nephew to wit: "ÖBill Mannion had retired from Hughes Aircraft approximately seven years ago and spent most of his time at home in Arivaca with his wife, Jani. They completed the construction of their new home and he took up the art of woodworking and carving. He begun to build a new house of furniture from scratch, complete with intricate hand carvings fashioned after multi-century old designs. The stuff that I have seen is totally amazing; he has mastered the artÖ" Our condolences to Jani and the Mannion Family.
Also got an email from Bob SCAUZILLO. He said he was planning to attend the reunion but had a last minute conflict that cancelled his plans. He vows not to miss another one.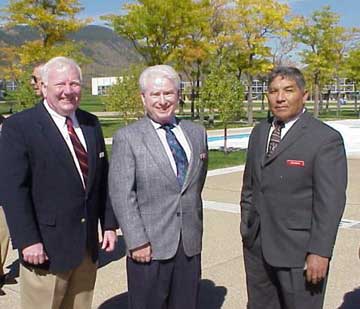 And speaking about reunions, I have inserted a picture from the 40th. You see Danny DONOVAN, Stan PATRIE and Leo JOHNSON. By the way, it was Leoís and Julianneís first reunion. I think weíll see them back again next time.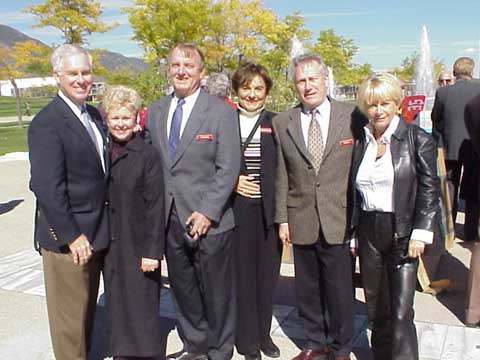 The next picture shows Gary & Jeannie BAUGHMAN, Owen & Connie HAWKINS and Tom & Renate RAUSCH. They are gathered by the Air Garden just north of the Cadet Dining Hall just before we had lunch with the Cadet Wing. The Academy allows spouses into the Dining Hall for these special Grad lunches, now. It was a real treat. The wives got a big kick out of it.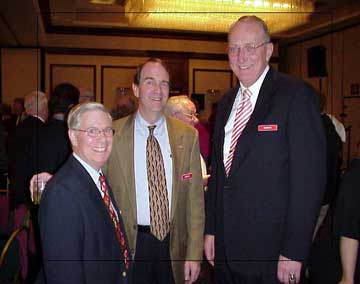 Since this is a short column this issue, Iím going to make up for it by including an extra picture..
Here you see Hal KECK, Chet GRIFFIN and Erv ROKKE enjoying a lighter moment at the Reunion banquet. A great time was had by all.

Paul and JoAnne LANDERS visited the Space Coast for a couple of days and Bunky and Connie REEVES and I had dinner with them one night. Paul & JoAnne are having a house built and are staying in their cabin in Alabama for about five months while the work progresses. See the accompanying picture taken just before we solved some of the most difficult math problems that Academia has ever seen. HA!! Glad to see Paul and JoAnne again. I see Bunky and Connie every few months here in the local area.
Fred and Helen HENDRYX were here for the month of February. We almost had a get together with Dave and Fran LEE who were flying in to Orlando for a few days but couldnít link up with them. So the Hendryxes, Reeves and Jambas had dinner out. I just found a few short notes from the reunion to pass along. Dave BOCKELMAN is building a Mustang Racer Airplane kit. Heís been working on it for two and a half years. I guess he follows the Italian time-table for completing epic projects, such as cathedrals and airplane kits. Cliff FALLON is still a professor teaching Electrical Engineering at Washington State while wife, Jane, teaches in the local school in their hometown in western Idaho. Tim TRAVIS is back in Tampa after working for one and one half years in Sicily. I hope he left his Godfather in Sicily. Bob TAYLOR recalled a day when he was piloting a commercial airliner in Central Florida and saw a Space Shuttle launch off his left wing. Then he got a vector from Air Traffic Control away from that area. And Bob GIBSON said that his older son chose to attend VMI. He is now in his second year there. The second son is a junior in high school.
I received an invitation from the Class of 2006 to speak at their Recognition Dining-In on April 11th. Iíll let you all know how it went in the next Checkpoints issue. Thatís it for now.
Go Redtags!