Winter - 2003-2004
Hi Redtags,
Well, itís almost New Year and I wish you all continued health and happiness in 2004. Space limitations of 1500 words forced me to cut each news item short. Keep sending the news. Got an email from Mike and Kay Butchko confirming a rumor that he was moving on to a new position. "Kay and I are going to Austin (returning Ďhomeí) where I will be the Northrop Grumman VP for Logistics and Ranges in the Technical Services sector. We have not found a home is Austin as yet, but are targeting the Northwest area that we lived in during the 90's. We will miss Florida but are anxious to get back home to Texas." The Redtags in the Melbourne area will have a farewell dinner with Mike and Kay in a few weeks. The best to them!
Got an email from Bob Lightsey: "I donít know who else already knows about this, butÖJohn Brothersí wife Gayle recently was operated on to have a kidney transplanted. The donor was her sister. The operation apparently went very well and Gayle is recovering nicely. Iím sure that neither Gayle nor John could have received a present that meant more."
Have a speedy recovery and a great New Year, Gayle and John.

Email from Paul Landers: "JoAnne and I are back at our cabin at Lake Martin in Alabama. We still have not sold our house in Michigan, so have not begun our new home in Texas. We took a trip to Las Vegas for a reunion of the Moody AFB 64A pilot training class.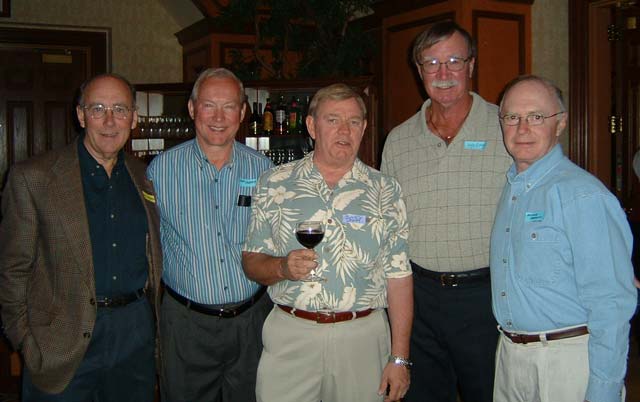 I'm attaching A photo of the five Redtags who were able to make it to Vegas...left to right, Paul Landers, Fred Hendryx, Bunky Reeves, Lyle Wilson, George Harrison. All look the same as their '62 graduation pictures. Right! Enroute to Vegas we stopped to visit George and Jan Larson at their home on the Snake River south of Jackson WY. Hope to see you again this winter when we make a trip through Florida."
Thanks for the picture, Paul. See you soon.

Got an email from Jim Gallagher: "Bob Gibson informed me that a good friend of the Redtags whom Bob escorted to the 40th reunion, Mrs. Fran Drummond, succumbed to the cancer she had been fighting for quite some time. Murle Wilson originally introduced Gibby to Fran, and Murle is now suffering from Alzheimer's.

An ex-Redtag, Darwin (D.G.) Edwards made his final flight west on Nov 22
from cardiac problems. D.G. graduated from Georgia (ROTC) in the spring of '63, went to pilot training and flew his beloved helicopters in Vietnam and through the rest of his career. After retirement he and the rest of the staff built Warner Robbins Air Museum into a world class air museum. D.G. is survived by his wife, Sheila and sons Richard and Chris." Thanks, Jim. I visited Darwin in February 2003 and got a personal tour of the WR Air Museum. Outstanding facility! Outstanding person.
Got some news from Rick Perlotto: " I managed to stay on the right side of the grass for 2003 and hope the streak continues for all of us. I fixed up a 1925 Spanish cottage here in Coral Gables, restored a 1967 Alfa Romeo and was working on my body but gave it up as a lost cause. Luckily there is Athletics Anonymous- whenever I get the urge to work out I call a buddy and he comes over and we drink until the urge passes."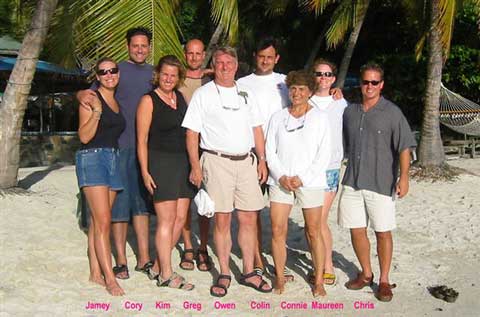 Heard from Owen Hawkins: The family treated Connie to a British Virgin Islands Big Birthday celebration. Sunning, swimming, snorkeling and whatever. And, guess who will be grandparents for the first time? Son, Colin and wife, Maureen, are expecting twins any day. And thanks again Owen for sponsoring the Redtag web site.
News from Bill Haugen. Bill & Sue celebrated their 40th Anniversary with a trip to Italy in October. Daughter, Linda, and family will move to Mary Esther, FL., when Caise retires from the AF this summer. Cindy and family moved back to Pittsburgh. Michael & Stephanie enjoy living in Philadelphia, with their first baby expected in the summer. Bill continues being a Docent at the newly opened Air & Space Museum near Dulles Airport. Thanks, Bill. Great having dinner with Sue and you in September.
Got a newsletter from TK & Virginia Moore: Daughter, Elizabeth, received a Meritorious Honor Award for her work at the US Consulate in Toronto. James, and family settled in Kaneohe, Hawaii. Of course Virginia and Tom had to visit them. They also visited about 5 other places from Germany to Seattle. Virginia had a scare when she lost her short-term memory. After emergency treatment, the doctors found some blood clots. She is recovered but pursuing a healthier lifestyle. It was great having dinner with both of you also in September.
Got some news from Charlie & Mary Jo Price. They sold their new palace in Atlanta and moved to Valdosta to build a newer one. They are living in a rental temporarily. Charlie has to commute to Atlanta but travels a lot so he doesnít have to go to Atlanta every week. She went along on one of his trips to Kenora, Ontario.
Got a newsletter from Willie & Nancy Gray. They flew to Las Vegas for their daughter, Christineís, wedding in November. It was a surprise wedding: the groom didnít propose until the night before the secret wedding; that took guts. Both families flew in for the surprise. Christine and Jay will live in Fresno and practice at the same hospital in Madera. Son, Larry, still is a manager at a restaurant in Atlanta and enjoying it a lot.
And this from Gary & Jeannie Baughman. They have a new grandbaby, Wager. Thatís number three for them. The other two are Emma and Jackson (not a singing group). Jeannie remodeled the kitchen this summer and made it look like something out of Southern Living. Gary played on his 5th Georgia State Championship Tennis Team for really-old people.
Got one of Danny Donovanís newsletters. Heís retired in Omaha. His daughter is a speech therapist for the Bellevue school system. She got married in November to a í97 USAFA grad (the only AF guy she ever dated) and RC-135 Instructor Pilot. Danny is now a training manager at Ameritrade.
Got the Gooch Gram from Larry and Penny Gooch. Larry is now on a two-day work-week for the California Space Authority. Nice work if you can get it. They drove to Texas for a wedding and to see Jenniferís family. In June, Laura and David had their 3rd son, Dawson, who joined Brian and Owen. Winnie, Danny, Maddy and Eli start school and carpooling. Larry & Penny hosted all five grandkids on a camping trip in their back yard, roughing it in a tent.
Received news from Duke & Monika Green: They sold their Beavercreek, Ohio house while they were in Florida buying their next house. They flew back to Ohio to close the sale. Then back to Florida to close the purchase but couldnít get clear title to it. So the search was delayed. In the meantime, it was back to Ohio and on to a vacation in Germany. They eventually found a house in Ft Myers and moved in during November. They now have it fixed up for guests. (Does that mean they have to sleep on the floor?)
Heard from Kirk and Rosemary Vaughan. They are in their 4th year in Oman. Westerners living in the Arab Gulf States were uncomfortable during the activities in Iraq but no problems occurred in Oman. So they continued to travel. January found them in Egypt at all the famous sites. February saw them in the UAE in Al Ain, Abu Dhabi and Dubai. They are sophisticated cities with plenty of good shopping. In June they went back to the US to see son, Miguel, graduate from Ohio State. Then they flew to England and toured all the big tourist cities. Then back to Oman. Rosemary came back to the US in August for daughter, Monicaís, wedding. And later in the year they spent some time in Singapore. They were amazed to see how excited the Singaporeans were about Christmas.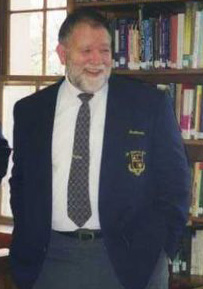 Got an email from George Thompson. He sent a picture of an erudite, handsome gentleman claiming it was his picture. Judge for yourself. (Pic #3) He also said his schoolís girls volleyball team was nationally ranked. One of them is a high school All-American. Keep it up, George. Hope we can go to Russia this summer.
Ted and Marcy Dykes sent news. David has been reassigned to Quantico, VA. Tammy is now in Spotsylvania, VA. That puts them close to Great Falls, VA. They said they had a record snow fall, rain fall, Hurricane Isabel and a twister. You should move while you have a chance. Ted.
Thanks for all the news. Go Redtags!