Spring - 2004
Hi Redtags,
Itís been a busy quarter of the year. Had two get-togethers with Redtags. The first one was in February when Fred & Helen Hendryx were in town. Some of us local Redtags had dinner at a local restaurant and once again had a ball. Itís funny how you can start talking so much after a couple of drinks. But they did and I watched it all. The enclosed picture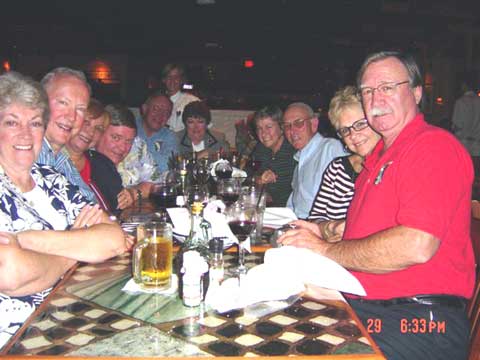 shows (L_R) Helen & Fred Hendryx, Connie and Bunky Reeves, Jack & Caroline Jamba, Nancy & Willie Gray and Susan & Lyle Wilson. Fred reminded me that Lyle lived north of us so we invited him and Susan. Lyle is still flying for MASCO Contractor Services. He pilots their Falcon 20 and Falcon 50 out of Daytona Beach. His wife, Susan, works for NASCAR, reviewing contracts, among other duties. Bunky and Connie had a house warming for their new retirement home. What a beauty! Itís located on the river in Merritt Island. For our next gathering we plan to do something between Daytona Beach and Melbourne so we can include Ken Fleming and Chuck Cheeseman and any other Redtags in the area. Or maybe weíll entice the Reeves to host it. Weíll see.
I read some of the other class columns and the scribes seem to have a common problem: not remembering what they heard in a two-hour conversation. You would think I could remember at least 300 words out of several thousand I heard. Nada. Blank. Gauge is empty. My memory is so bad that I canít even remember clues about what I heard. So I canít even feel guilty about forgetting that information. And no more comments about Alzheimers. If I get Alzheimers, Iíll let you know Öif I can remember your names. HA, Ha.
I got the following email from Gene McHugh. "I am not much for writing (in fact you may note that my name has never appeared in the checkpoint) but I read your column faithfully. I decided this time to write you due to your kind invitation and the fact that I have been working on a very interesting project which others may care to know about. The Air Force Academy Society of Washington, DC (AFASW) and the Capital Chapter AOG decided to have a special event to recognize the 50th Anniversary of the AFA Founder's Day. I volunteered to undertake the task of identifying and providing a special brochure listing of all the "Firsts" during that first 50 years claimed by AFA cadets and Graduates. I was initially expecting to get most of the list from the AOG. While they were supportive and provided a few, I was told that their records were incomplete in this matter because not every graduate is a member of the AOG and not all members of the AOG provide complete records.
Faced with this challenge, I got on all of the AOG Class web sites and found the Classes' scribe, secretary, president, etc. and asked for their assistance. The response was great, especially from the older (as you would expect) Classes. I have collected a database of over 100 "Firsts" for our event on 27 March. Many of the Claims are of historic value (1st CSAF) and some are just good clean fun and interesting (1st Cadet to walk through a stairwell door).
I found out that the AOG was not making this 1 April 2004 Founder's Day the focus of their 50th Anniversary celebration for the USAFA, but they were focusing more on the summer of 2005 (50 Years since the First Cadet Class entered). I am going to keep my list open and hope to collect more claims over the next year to provide to the AOG for all graduates to enjoy. We have advertised our Founder's Day event as a chance to "Stake-your-Claim" and are encouraging graduates to define and claim their "Firsts" at our event to stimulate conversation and add to my list. Please encourage RTB's to participate and lets get a broad collection of claims. (gmchugh@chesapeake.net)
By-the-way-, I live in Port Republic, Maryland on the Chesapeake Bay south of Washington, DC. I had four children (including twin sons) all grown and on their own. I have five grandsons and a granddaughter. My latest grandson is British and lives with his family in London. I look forward to retiring in a year or so from my current consulting business. Good luck, Jack. Thanks for years of great reporting."
Thanks for that email, Gene. I encourage you Redtags to contribute as much as possible to Geneís list. I think we can have a list of sterling accomplishments as well as some uproarious ones. For example, I think that Gary Forrest was the first All American that our fledgling Academy had. Gary, is that accurate? Drop me an email, please. I would ordinarily correspond privately with Gary but Iím doing it this way to stir everyone up. I think I was the first cadet to have a full-size Wurlitzer record player in his room. Of course, I only kept it for a week until we could repair it and transport it to the Cadet Club in the Antlers Hotel. I was also the first President of the Cadet Club and persuaded Nino Baldacci to be the Cadet Club Officer Sponsor as indicated in our first-class yearbook. So put your thinking caps on and start sending those firsts to Gene Ö and donít forget my class column.
I went on a trip to Washington, DC, earlier in March and had dinner with nine other Redtags. Several of the wives were also able to make it. The attached picture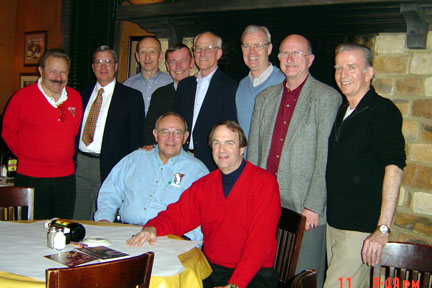 shows a youthful group of warriors. I know we look just like we did at graduation. Seated L-R: Jack Jamba and Chet Griffin. Standing L-R: Hesh Altman, Dick Smull, Don Hallager, Bob Gibson, Bob Lightsey, Bill Haugen, Tom Moore and Art Farrington. I remember that Dick Smull is selling real estate in his home county and feeling extremely fortunate with the way the real estate market is doing. Chet is finally retired. Hesh will be leaving his current job and going back to Las Vegas later this year. He and I will get together at the beginning of September when I go there for a VPP conference. Bill Haugen gave me a demonstration of his docent capabilities when he took me around the new Udnar-Hazy Air and Space Museum at Dulles Airport. We both only had 45 minutes to spare. He had a follow-on VIP tour to give and I had a plane to catch. It was stupendous. If any of you are in DC and have the time be sure to stop by and see the new museum. Admission is free but parking is $12. Some of the other Redtags are still working and a couple of others are retired.
And now a word about Sam Dehne. I have a quote from a local Reno, NV, newspaper describing some go Sam Dehneís activities in Reno. " Tom Clark and Sam Dehne keep a jam-packed schedule playing for hospitals and retirement homes. Sam Dehne is mainly known for his activities as a local political gadfly. For years he has attended every meeting of the Reno City Council, where he invariably expresses his opinions, often in song form. He sometimes calls himself "The Singing Encyclopedia of Reno Government," and has irritated city officials with his topical songs such as "The Ballad of Bobby Cashell" and "The Ballad of Reno Toilets."
But there are other, lesser-known sides to Dehne. He and retired Reno Police officer Tom Clark co-own a gold mine, provide commentary for amateur boxing matches, and bill themselves as Too Wild Yankees, a musical duo that Dehne describes as "the singing sensation that's sweeping the nation." Dehne plays guitar and sings. Clark plays harmonica, kazoo, percussion instruments and occasionally sings or whistles. The duo offers its services free to charitable organizations. They keep their calendar full, playing frequently at hospitals and retirement homes."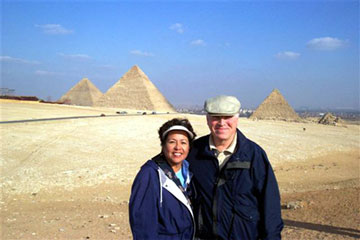 For the final item, I am enclosing a picture of Rosemary and Kirk Vaughan at the pyramids in Egypt. They stopped there on one of their trips from Oman where Kirk is a professor at Sultan Qaboos University.
Well, thatís it for now. Please send me your news items when you read this sentence. I only have about 2-3 weeks to compile the information, translate it into readable English, delete the objectionable words and send to the AOG. Be a contributor to this column.
Go Redtags!