Fall 2004
Hi Redtags,
Well itís post-hurricane time here in Florida. Had to evacuate my house twice. First for Frances.

Caroline and I were in Las Vegas for a conference and mini-vacation when we received word from my company to return and prepare for evacuation. We spent Carolineís birthday securing the house and driving to Jacksonville to hunker down at our daughterís house. She lost electricity on the third day. We headed back home on Labor Day. What a drive! No restaurants open, no gas stations open, no electricity, no joy. It took seven hours to go less than 200 miles. I was talking to the billboards to amuse myself. Because of damage at Kennedy Space Center facilities, I was not allowed to return to work until the following Monday. Our electricity was out for four days. Bought a generator. I wasnít too choosy about the generator or very knowledgeable. It had a one gallon gas tank. Had to fill it up every 1.3 hours. I couldnít expose it to rain or any moisture. I put it on the screened porch outside our bedroom. It sounded like a NASCAR race outside my bedroom. I say my bedroom because Caroline gave up the ghost and sat in a big lounge chair in front of the front door screen door. There was no air conditioning at all. Some of the food in the refrigerator and freezer spoiled. Most restaurants had no power so were closed. Cooked some meals on my gas grill. I decided it was time to go on a diet. Actually, I didnít decide anything. There was no choice. You canít stuff yourself on food that isnít there. Now thatís a sure-fire, guaranteed diet.
Then on Sep 24th we evacuated again because of Hurricane Jeanne. But this time we went across the river to Melbourne to stay with our older daughter. Electricity went off as the hurricane passed through our area. Went home that day. We found four shingles on the ground. Between both hurricanes, we lost three small trees and about seven sections of fence. The electricity in Satellite Beach was down. It took four days for us to get it back. I bought another generator. Runs longer and quieter.
The weather is great now. Roof should be repaired soon. New fence will go up in mid-November. Lost two inches from my waist.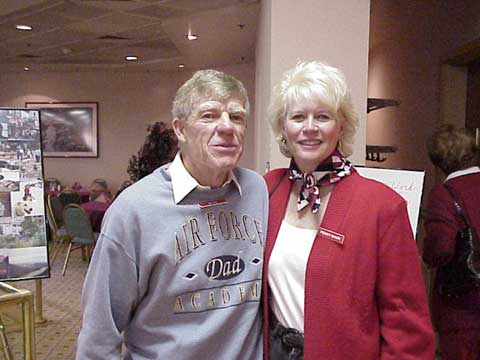 (Photo from our 40th reunion of Jim & Penny Mack.)
From Don Baucom: "I ended my AF career between 1987 and 1990, setting up the history program for Reagan's Star Wars initiative. Six months after retirement, I came back to work for the SDI Organization as its civilian historian. I retired from that position in June of 2003 (now known as the Missile Defense Agency under Bush II). Peg and I moved from Alexandria to El Prado in September 2003.
Incidentally, we've had our experience with hurricanes too. Our furniture was picked up for the move to New Mexico on 18 September. As they were putting our stuff on the van, we started feeling the wind and rain of hurricane Isabel. We lost power about 10 that night and had to bail out one of the sump pump wells a couple of times. On the 19th of Sept we closed on our house in a title company that was dark--no power. Luckily, one of the workers had power at home and was able to run off the closing documents on her home computer.
We moved into our new house on 28 September. We had been visiting Taos since I taught in the History Department at AFA during the seventies, and we both fell in love with the place. Peg is an artist (a painter), so she loves the large, vibrant art community here. I enjoy trout fishing, hiking, reading, writing an occasional article or book review, and chasing our grandchildren around ( three grandsons and two granddaughters with a fourth grandson on the way). Our younger son Rick lives with his wife and two boys in the Springs--we see them often. Our older son lives in Sterling, VA, just outside Washington; he has a little girl about one and a half and a son who is due at the end of this month. And, of course, you know that Kathy, her husband, and their daughter and son live in Tampa.
El Prado is a small community about two miles north of Taos. Its most distinguished citizen is Donald Rumsfeld who has a house that the local lefties love to picket when they have spare time on their hands. Ciao, Don."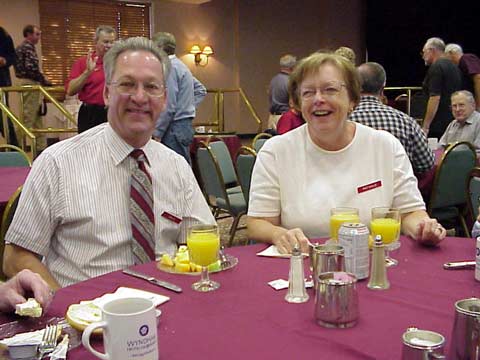 (Another photo from 40th reunion - Charlie & Pat Hale)
From John Flanagan: "Finishing up second year of teaching at Mass Maritime Academy located on the Cape Cod Canal. Great retirement job. Probably achieved a first for a Zoomie by being a staff member on the maiden voyage of the T.S. Enterprise, the Cadet training vessel. This makes me a "Plank Owner", a naval honor bestowed only on those who are on the maiden voyage. Oh yes, the voyage was to the Caribbean in January and February. Mari Jo and I will once again be sponsoring the Sabre Society dinner in NYC prior to the Army game. Would really like to see some Red Tags. "
Now a few words from Bob Hopkins: "On my last business trip, I was able to donate a picture in the name of the RTBís to the RAF Club in London. I'm sure RTBís would like to see the club - steeped in tradition with many original paintings, prints, mementos, plus beautiful facilities. For those who visit London more than occasionally, you might want to join.
The picture is by Robert Taylor - numbered color print of Battle of Britain scramble of Spitfires flown by US pilots with original EAS Patch embedded in matting. Signed by Eagle Squadron members at a reunion in the eighties. Pilots were Americans who joined RAF in 1940-41 prior to US involvement. Eagle Sq members joined the Army Air Corps after Pearl Harbor. Picture is hung in prominent place on fourth floor of club with brass plate-"Donated by the Class of 1962, United States Air Force Academy."
Any ex-USAF Officer can join and it's right in center of London at great room rates. Low annual dues and beautiful club. (http://www.rafclub.org.uk/). Website has info on joining. You can contact me for sponsorship. Best Regards, Hoppy"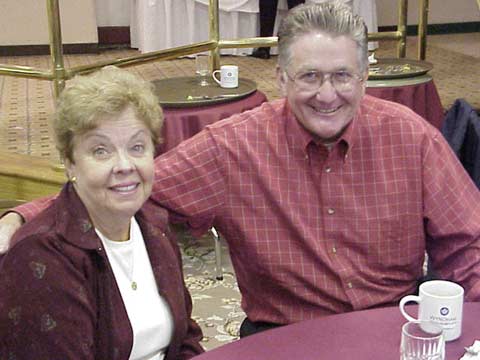 (Another 40th reunion photo - Mary & Willy Holbrow)
Now some news from Randy Schamberger: "I've known I had a heart murmur ever since I graduated from the Academy in 1962, but it was never considered significant . I retired in 1990 and then in 1993 I started having some physical problems and doctors discovered calcification of my aortic valve. I was scheduled for valve replacement on 5 May with the standard full sternotomy (cut me open the full length of the sternum). Three days before, while I was helping my neighbor install his new washer and dryer set (stackable) I felt a "pop" in my left biceps and my arm went numb. I tore the biceps tendon off the radius. Instead of heart valve surgery, I underwent surgery to reattach the tendon on 12 May. I researched valve replacement and found a minimally invasive aortic valve replacement (MIAVR) surgery with only a 5-inch incision at the top of the sternum. I contacted the doctor and made arrangements. My surgery was "dark and early" on the 8th of July.

Well, the surgery went perfectly and then I developed a low-grade fever. They had to hold me another 24 hours to assure it wouldn't return. While replacing my aortic valve, the surgeon discovered that I had an aneurysm on my ascending aorta, so he put a mesh clamp on that at the same time. That could have had a disastrous effect on me if it had not been found and corrected. Looking back now, I'm so thankful I hurt my arm. If not, who knows what the consequences would have been. I would have had a mechanical valve, blood thinners for the rest of my life, face the chances of blood clots and restrictions to my active lifestyle. Now I have a bovine pericardial valve made from cow tissue and molded into a 3-flap valve and chemically treated to prevent rejection.

I'm now living the life of leisure while Lieu has to do my beck and call. Ha! She gives me 6 weeks and that's it. I can't lift anything heavier than 10 pounds for 3 months and can't drive either, until the incision is completely healed (about 6 weeks). I still don't have complete range of motion in my arms and shoulders and it hurts to cough, but I'm slowing getting into shape. I walk about 2 miles a day now. Isn't that amazing? Ten days after surgery. How times have changed. Heart surgery used to mean 3 months flat on your back and a restricted lifestyle for the rest of your life. My poor left arm is so shriveled. No biceps and skin wrinkled like a 90-year old man. Cheers".
Stay healthy. Randy. Thatís it for now.
Go Redtags!