September - 2005
Hi Redtags,
Well, Discovery made a successful trip into space. We were glad to see it. Many people on the Space Coast, and around the world, are looking for a second flight as soon as possible after the ET foam issues are solved. We would like to see the Shuttle keep flying safely until it shuts down in 2010.
But now to class news from around the world.
First we'll start with a news update from Dave & Fran Lee. "I hope this email finds you and your family in good health and good spirits. Thanks again for continuing to write our class news column for the Checkpoints. Fran and I read it in each issue. Let's hope the hurricanes spare the east coast of Florida this year. In February, Fran and I visited our timeshare condo on New Smyrna Beach. The beach erosion was horrific. We used to be able to drive and park on the beach, but after the hurricane, there was no beach at all.
Jack, I wanted to comment on your idea in the July 2005 Checkpoints about having perhaps intermediate mini-reunions between the major "every 5 year reunion" at the Academy. I think the concept is an excellent idea, and I would like to toss out 2 potential locations. One is the Shades of Green military recreation center in Orlando, right in the heart of Disney World. Airplane access is abundant. Another choice is Wright Patterson AFB. Besides all the military amenities, there is the Hope Hotel on the reservation plus National Air Force Museum. It would be nice to launch this idea possibly for the year 2009. It could be a good discussion item or even a promotional item at our 2007 reunion at USAFA.
On the personal side, things are going well for Fran, me and our family. I am also getting my share of time on the golf courses around Dayton. In fact Herb Weatherhead and I linked up as partners in a Monday golf league at Wright Patterson sponsored by MOAA. During the standard academic year, I took some adult learning classes at the University of Dayton. One was a fly fishing course where we caught and cooked trout on the last day of class. The other was an introduction to wine class where we drank different wines during the class periods. As you might suspect, both courses had near perfect attendance.
Fran and I went down to Fred and Helen Hendryx's home in Cincinnati a few years ago and partook of a dinner of wild boar from Florida. It was excellent. Hope the next hunt with Tom is as successful as the previous ones. ( Note: Fred told me recently that he and Tom Young each bagged a boar. Fred brought his home.) Speaking of wild game, we just had some venison tenderloins on the grill a couple of nights ago from the 8 point deer I shot in November. Jack, take care and Best Regards.
Thanks for that update. I liked the variety of things you mentioned in your email. Keep in touch.
Next is an email from Owen Hawkins. Connie and he were on a vacation in San Antonio a few months ago and went out for dinner. They unexpectedly met up with Gail and Carol Peck. Here's how Owen described it. "Big surprise. They had already been seated when we came in and Connie and I were put near a window so we were looking out at the view. After about 10 mins I heard from behind; 'Excuse me, but is your name Owen Hawkins?' I turned around and said, 'You look familiar, but I don't recall your name'. Then when Gail introduced himself, I felt quite a bit embarrassed. I remember when his wife died, but didn't know he had remarried. Anyway, Carol (maybe Carole - not sure) has a fun sense of humor and was a very good friend of the family for many years. If he doesn't send you the photo in a week, let me know and I'll bug him. He's still in Las Vegas and is still an instructor (academic type) at Nellis. What a deal! " Thanks for that story, Owen. Just goes to prove that we can run into each other anywhere in the world.
Now let's focus on an email from Ron Taylor. "I like the idea of an off year reunion. Maybe in the early summer near the 2 ½ year point. We might find a place in the eastern half of the US for our off year reunion. Some places might be Atlanta, Dayton, or D.C. These days I am game for any get together – not many Redtags in my area! No new news here. Bobbie and I are healthy – one out of three will do for now! Bobbie has been nominated for ordination in June 2006. She had to serve a minimum of three years after graduation from seminary, and now thinks she can see the light at the end of the tunnel. I work one day a week at the state park, am serving as District President of the United Methodist Men, on a state committee on Domestic Violence, on the Board of Directors for our County Senior Center, and a driver for the County VA as well as Habitat for Homes. It is amazing how many non-paying jobs there are out there. I am thinking about retiring from retirement! I did make one more commitment this week; I committed to playing 9 holes of golf a week!" Thanks, Ron. Sounds like you don't have time for retirement with all those non-paying jobs you do. I've heard the same thing from others. They don't know how they ever had time for work. Since I'm still working I won't have to worry about that question for another year or two. Since I'm almost 67 and enjoying my job, I plan to do it for a while longer. My wife feels the same way about her job. I wonder if we will remain on friendly terms after we both retire. I can hardly wait.
In July I went to Washington, DC, for another meeting. We had a Redtag Get Together at Cis and Phil Merkel's house. Very nice place situated on 2 and ½ acres in rural Virginia. Phil has a pool and a tennis court. We started off in the basement recreation rooms with some snacks and beer/wine. Later upstairs we had a delicious pot luck dinner. In attendance also were Ginny & Don Hallager, Virginia & Tom Moore, Mike Hughes, Eva Lee & Chet Griffin, Anny & Dick Smull, Sandy & Art Farrington, Ann & Bill Haugen and Marci & Fred Dykes.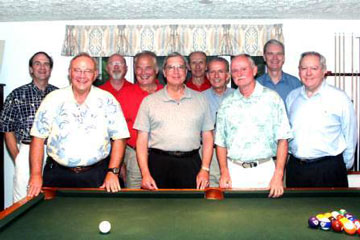 L-R: Jamba, Moore, Hughes, Griffin, Smull, Hallager, Farrington, Merkel, Haugen and Dykes. The Moores are retired and traveling several times during the year. Mike Hughes is still doing some consulting work on the strategic planning level. Eva Lee just had knee surgery and was still hopping around showing lots of spunk. Chet is retired. Marci Dykes was in a nasty car accident several months and was in a coma for 9 days. She is looking well and still has some surgery left to complete. Fred is still working for a Beltway Bandit, I think. Bill took Caroline and I on a 3 and ½ hour tour of the Udvar-Hazy Air & Space Museum. What a grand place to see. Ann is retired, too. The Merkels are retired. Dick Smull called it quits, too, but Anny is still working for a contractor. The Hallagers are retired but Don has some heart surgery coming in October. Art is still involved in some entrepreneurial pursuits but Sandy helps when possible. Hope to see them all again in November.
Just got a newspaper article that appeared in the Falmouth, Massachusetts Enterprise, from John Flanagan. John was visiting friends on Martha's Vineyard when a wrong turn took him to Katama airfield where he spotted an old Army L-19A Bird Dog. It is the spitting image of the O-1E Bird Dog he flew in Vietnam. He had to update his FAA and Tail-wheel licensure but wangled a ride with the owner. It brought back many memories of the missions in Vietnam. John plans more rides in the old Bird Dog. The accompanying picture shows John in front of his new-found friend. (Insert Pic2 here)
That's it for now. Keep the letters and pictures coming. By the time you read this column, it will be shortly before Christmas. Merry Christmas and Happy New Year to you all.
Go Redtags!