December - 2005
Hi Redtags. Our part of Florida has escaped the hurricanes this summer, so far. But there are 6 weeks left in hurricane season; we can still get pounded.
Iíll start with an apology to Sue Haugen for naming her Ann in the last issue. Thatís two wivesí names Iíve messed up in a row. I need an R&R.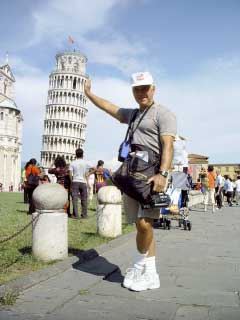 Randy Schamberger sent me a quick note. "Hi Jack. Lieu and I took a 13-day Mediterranean cruise in August. We flew to Rome and then took Carnival's Liberty to 10 ports. Man, I couldn't believe how that country is messed up. In Rome, they haven't cleaned up any of the ruins that were there during our 3rd Class Field Trip. But I tried to do my part. In Pisa, they had a tower that was leaning so badly I thought it would fall so I held it up as long as I could (see photo). " Thanks Randy. I never knew you were such a power stud. Iím impressed. It looks like you almost crossed paths in the Mediterranean with Willie Gray and Bunky Reeves.
Got this from Fred Hendryx. "Jack, this is my report on the Moody 64A Reunion.
The 62RTB grads attending were: Ralph & Pat Conlan, Jerry & Jackie Daniel, George & Penny Harrison, Fred & Helen Hendryx, Bob & Peggy Keighery, Lyle & Susan Wilson. The highlight of the Reunion was a Friday tour of the Air Force Museum at Wright Pat. Everyone enjoyed the Reunion and is looking forward to the next one in Maine in 2007. Sorry, no pictures yet. Fred"
Got an email from Owen & Connie Hawkins. "Connie & I are traveling in our RV and have been zigzagging around Texas since Sep 20th. Went to Midland-Odessa for the Commemorative Air Force (CAF) Airshow (they spell it AIRSHO) - used to be known as the Confederate Air Force in Harlingen - and it was really amazing. They had a B-17, a B-24, several B-25s plus tons of T-6s and other WWII Warbirds. I stopped by one booth called "Yellow ????" and asked if anyone knew Grant Lannon. Yep, they said - he was at the show, but over in the T-6 area. I tried spotting him as the T-6s taxied by, but all the pilots I saw had too much gray hair so I figured Grant just stayed in the pilot's lounge to escape the 96-degree temp. Went thru Big Spring (ex-Webb AFB) and Lubbock (ex-Reese AFB). Very nostalgic and a bit of a tear in my eye. Watch out for any leftover Hurricanes. " Thanks Owen. Hope the rest of the trip went well.
Now this from George Thompson: " OK Jack! I retired (again?!) from my position as Headmaster at Patterson School and returned to the Pskov Volny Institute in Pskov, Russia. I am back in the old routine teaching four courses. Meanwhile there are lots of nice cultural events here in Pskov and in St. Pete. I am expecting a strong winter since last winter was quite mild, but it is NOTHING compared to Minot! Here, in the part of Russia that once was owned by Sweden and not reached by the Mongols, the girls are tall, slender, blonde with long hair and short skirts! Other than that I refuse to answer on the grounds it might incrimbilate me. Cheers to all! George." Donít worry, I wonít incriminate you.
And here is a recent email from Dick Klass. "Hi Jack, The class of 59 has sounded us out about participating in an effort to memorialize the Lowry years. They are thinking about a full statue of Gen. Harmon or something on the "heritage trail." No commitment to cost, funding, etc. at this phase. Could you put the above in the next checkpoints and ask for reactions to be sent to me. Thanks, Dick" OK, Redtags, Let Dick know about your feelings on this subject. He can be reached at rklass@comcast.net.
And a quick message from Willie Gray. "Hello Jack, Hold the presses!! Nancy & I just returned on Friday from a cruise in the Mediterranean. The second night on the ship, at the conclusion of the nightly show, Nancy & I were approached by none other than RTB Bunky Reeves and his lovely wife Connie. They were onboard celebrating their 25th wedding anniversary. What are the chances of running into another RTB 4000 miles from home, who by the way only lives about 15 miles from us? They were staying in Europe for at least a week after we returned from Venice. Hope all is well with you and the family. Cheers, Willie" Thanks, Willie. See you soon.
Here is an email from Tom Rausch to Tom Young. "I am doing engineering/technical work for The MITRE Corporation. Our portion of the company supports the DoD. I have always said that I will keep working as long as it is fun, AND as long as I am part of the solution and not part of the Ďproblemí. Since I get involved in all the European Intel (ISR) activities and a lot more besides, it is still exciting. And since I am working with 30-year-old captains, you know that age and treachery will always win out over youth and enthusiasm.
HOWEVER, I canít retire until my lawsuit against the German "IRS" is finished since part of my case depends on my being here for my job. IF I retired and stayed here, I would prove their case. At present we cannot leave because my mother-in-law is 85 and my wife an only child. So I work and enjoy it AND the pay. Wait until next April when I can also collect SS. Iíll be swimming in money.
Tom" Thanks Tom Rausch for that missive.
And letís see what Tom Young replied to Tom Rausch. "I resigned from the AF in 'í71 and began a real estate career. I was in Columbus, OH, until '92, then moved to St Pete, FL, where I still am a real estate broker, and collecting SS. I enjoy people (most of the time) and have the luxury of choosing my clients, so I have to say I am blessed both personally and professionally. I enjoy my work and I'm active in my church, where I head up the sportsmen's club. So I get to do a lot of hunting and fishing. It's good to hear from you and to hear that you're happy. Best wishes with the German IRS. If you ever get to FL, let's try to hook up. Tom Young." Thanks for letting me print that update, Tom. Iíll need another picture of a boar or deer kill sometime soon.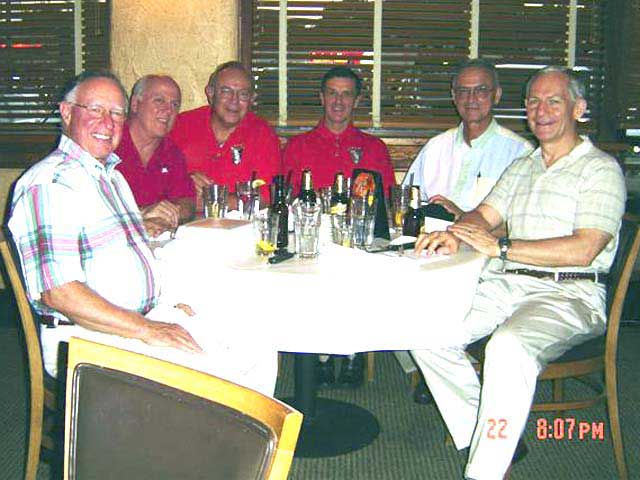 Went to Dallas and had a mini-reunion with Vern Wood, Tom Hutchison, Jerry Smith, Chuck Turner and Bob Staib. Bob was newly married the previous week and still in the aircraft leasing line. Jerry is working partial days at his real estate business. Tom is full-time engineering with Lockheed Martin. And Vern and Chuck are retired. See Picture (see photo above).
I guess that wraps it up. Merry Christmas and Happy New Year to all of you. Send me those Christmas Newsletters. Go Redtags!