Fall - 2005
Hi Redtags,
Well, itís been a good quarter. We have another Shuttle launch coming up in December. We are all glad to be back in the operational mode again.
Had the opportunity to travel to Washington last week and had dinner with Bill and Sue Haugen, Tom Moore and Dick Smull.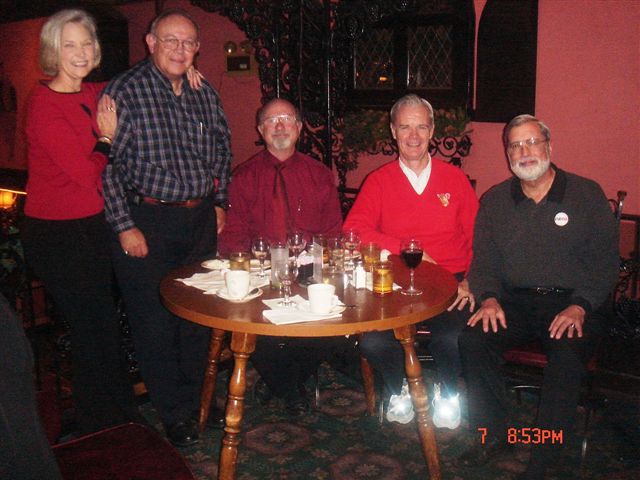 Bill is still retired and enjoying being a docent at the Udvar-Hazy Air & Space Museum near Dulles Airport. He meets very interesting people who have been connected in some fashion with some of the aircraft and spacecraft on display. Tom does an occasional consulting job. He has also been getting in his share of travel with Virginia when Virginia is between semesters. She still enjoys teaching. Dick is still selling real estate and looking forward to retirement soon. Iím still working and enjoying it very much. My involvement with the OSHA Voluntary Protection Program is very rewarding and satisfying. So I intend to continue working for a while. By the way, Sue remarked at how fortunate she was to be surrounded by four handsome Redtags. I kept looking around the restaurant to see where they were hiding.

This just in from Rip Blaisdell: "Mark your calendars; the RTB 45th Reunion will be held in Colorado Springs 31 October through 4 Nov 2007. We will be staying at the Wyndham (same as 40th reunion). The schedule will be very similar to the 40th reunion; Wed - Early sign-in, Thur - Golf and evening buffet, Fri - Class meeting / cadets / Memorial Service / evening Dinner, Sat - BEAT ARMY, Sun - Brunch.

The Colorado Springs reunion committee is working hard to make all the arrangements and reservations. An official reservation package and more detailed schedule will be published in early spring 2007. If you have any questions or comments, contact Rip Blaisdell at

tharipper@msn.com or (719)686-1408." Thanks, Rip for the update. Letís get the word out to our lost souls. Encourage them to be at the 45th. Itís a great time. Theyíll not regret it.

Pat & Pete Robinson visited Crete and sent the following note to Colin and Marge Richardson with copy to me: "We had a good visit on Crete and some other islands of Greece. We visited a new aquarium on Crete that is supposed to be the largest in the eastern Mediterranean. It's built on the closed air station. Some of the buildings are being used for schools, offices, etc. Other buildings are overgrown with vegetation and in disrepair. It's like a ghost town in some areas. I'm sure that you'd see lots of changes from the time that you were there. There is quite a bit of European tourism, but I don't think there are many Americans who visit." Thanks for the email Pat & Pete.

Got this from Frank Urban " An enthusiastic group of Redtags, wives, sons and friends met in the Qualcom Stadium parking lot on 10/21 prior to the San Diego State University game for food, drink, and true RTB camaraderie. It wasn't hard to pick out the Redtags in the sea of Blue, and I even had a '66 Spouse (American Airlines Flight Attendant) approach me to comment on how much spirit the "Original" RTB's had! (And still have!) Isn't it interesting how our class color "Legacy" has continued with following classes?! Anyway, we all really enjoyed the day (except for the outcome of the game)....This weekend, loss to BYU again, Rats!!! Looks like 6 - 6 this year?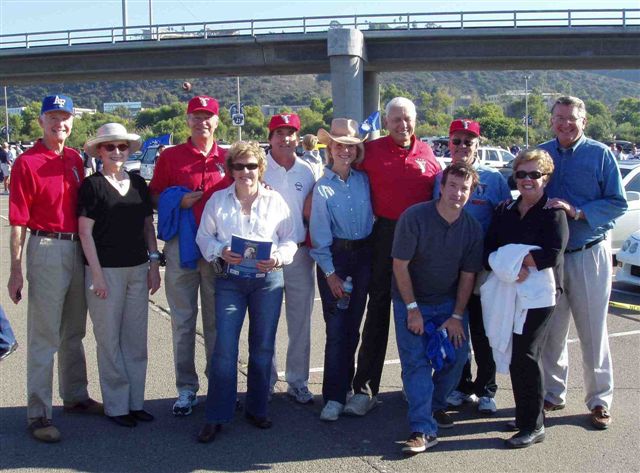 The 'Tags in the picture are, from left to right: Mike and Judy Quinton, Frank and Judy Urban, Roger Smith, Pat and Bob Connolly, Chuck Hale and Charlie Hale, Mary and Wilmore (Willie) Holbrow. Not pictured but present: Dave Bockleman, Roger Meyers, and Larry and Lois Harmon.
And now we have an update from Dave Whitman.... " Jack Ė I know you will wonder why I am sending this. Ann and I were just trying to schedule the events for next year and we need to know when the reunion will be. Have you heard, or do you know who is responsible for putting it together? We now have two of our kids in the Denver area. Our daughter, Julie, just moved to Westminster (between Denver and Boulder) two years ago. She is married to a Doctor; they met at Kirtland Ė both assigned to the hospital there. They got out of the service and were married in August 2004 (Julie 12 years out of the Academy), and moved to Denver. Bernie is with Kaiser Permanente and Julie is a Professor of Physical Therapy at Regis University. They just had a baby girl last month. Ann and I will be spending a lot of time there now that we have an extra excuse for going.
Our son, Dave, has been in the Vail/Beaver Creek area now for 15 years and loves it. He is in real estate there. Our other Daughter, Beth (8 years out of the Academy), got out of the Air Force in 1997 and settled here near us. They have four kids and they all keep us busy when we are here in town.
Last week we were in Okarche (Okla) to see Annís sisters. I had to get out the wedding pictures and reminisce the days we were all there for the wedding. Remember the Cossack hat you had? We all were so young then!
We are well, traveling a lot since I fully retired a year and a half ago. We decided that we needed to travel a lot now when it is still easy to move around. Hope you and Caroline are well. Cheers, Dave Whitman"
I inserted a picture of Dave & Ann Whitman together with their son, Dave and his wife, taken at the 40th reunion.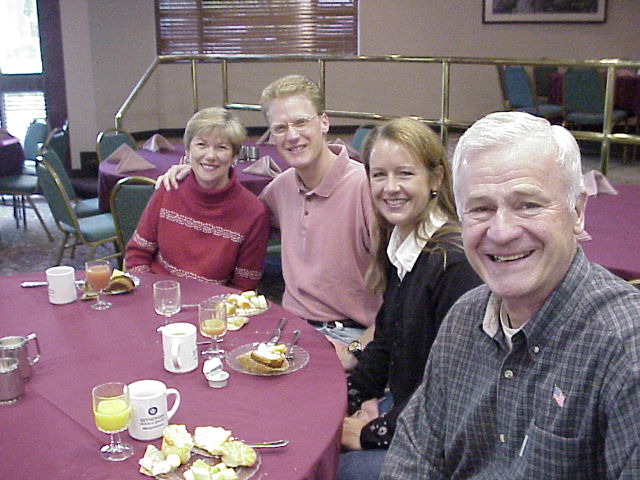 Thanks, Dave. I can hardly wait to see the kids again.
Thatís it for now. Iíll be getting Christmas cards in a month and will have the news in the next Checkpoints. Thatís it for now. God Bless and be safe.
Go Redtags!!