March - 2007
Hi Redtags,
Let's start off with a picture taken at the wedding celebration for Hesh Altman's son, Joel, and his marriage to Marci. L-R: Hesh Altman, Rick Perlotto, Gail Peck and Mike Butchko. Great time in Las Vegas.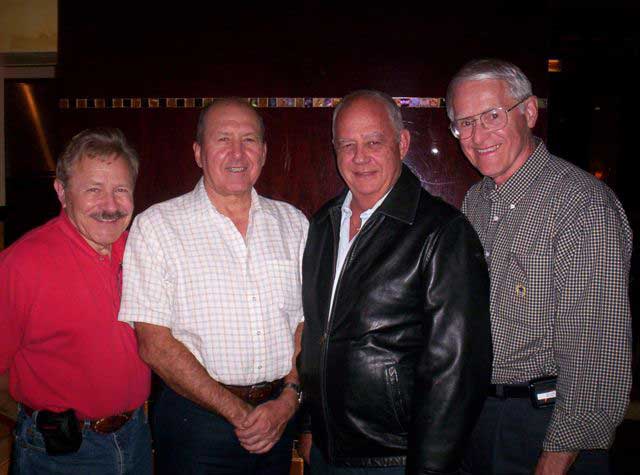 Next is news from Paul Landers. "Having retired from Ford Motor Company in Dec 05 (my third retirement), I am committed to living like every day is Saturday. We live at Eagle's Bluff, just south of Tyler TX. We travel frequently, host friends and family, play golf avidly but not well, and generally enjoy everything about these senior years.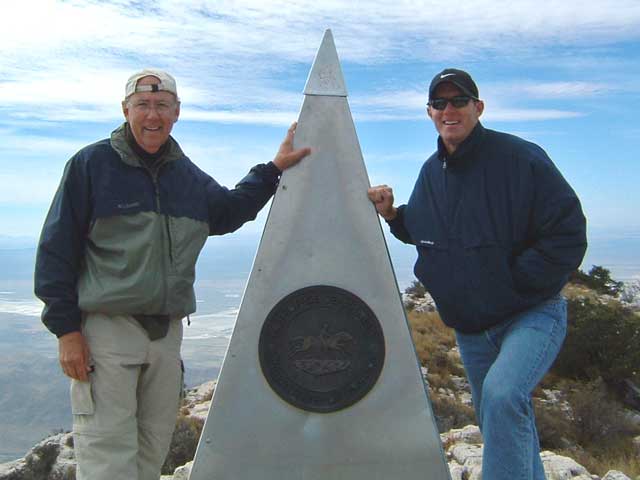 With my 67th birthday this month, I wanted to do something different. My oldest son, Scott, and I made the hike up Guadalupe Peak, highest point in Texas, 8749 feet...not exactly Everest, but a challenging 8 miler, rising 3000 feet, listed in the Park Service handouts as 'strenuous.' We thought the long views of TX/NM were worth the trip." Photo attached. L-R: Paul Landers and son, Scott.
On a more serious note, George Bifolchi's brother's remains were recovered recently. A newsclip: "The DOD POW/Missing Personnel Office announced Oct. 26 that the remains of an Airman, missing in action from the Vietnam War, have been identified and returned to his family for burial with full military honors. He is Maj. Charles L. Bifolchi of Quincy, Mass." On a personal note, I met Charles one day at the Tan Son Nhut AB BX in 1967, I think, and introduced myself and chatted a few minutes. He was a very personable man. Our condolences to the Bifolchi family.
And this in from Owen Hawkins. "I forgot to send this earlier, but Polly & Jack Swonson visited us back in August. We went out one night in San Francisco.to a dinner show on the wharf called TEATRO ZINZANNI and Polly got to dance with the master of ceremonies. Jack approved. P.S. Hope all is well - still trying to get out there to see a launch."
And now a history lesson from Gail Peck. "Some of you might be interested to know that the AF declassified a program I started lots of years ago - Constant Peg. It was named for Peggy and related to adding real MiGs to the AF aggressor program. For my part I was initially the idea man and facilitator. Once we got the project off the ground in Washington I came to Nellis to complete the construction of the airfield at Tonopah, with a lot of great help I might add. I flew both the MiG-17 and MiG-21 as an aggressor in the program and later flew the F-15 against the MiG-23. Awesome! Glad we can now chat about it." Gail,
I always enjoy hearing about some little known historical facts that are revealed to the public. You had a great story there. Thanks.
And a footnote from Al Mosher: "Gail--Guess I flew against you and didn't know it was you. I was the guy who couldn't keep up!"
Note from John Flanagan on West Point game. "It was a cold and clear night, a bomber's moon, on the Hudson as throngs shivered and cheered to a great AF victory. Great after loss to Navy. Biggest threat of evening was being trampled at gates as WP supporters fled in disarray at half-time. Only Red Tag I spotted was Hal Rhodes. We exchanged some stories and reminiscences. Saw some 59er's who said that their major contingent was ensconced in front of a plasma TV in a Newburgh motel. Did manage to recover some of my losses $$$ from Navy game. Flan" Thanks for the update, John.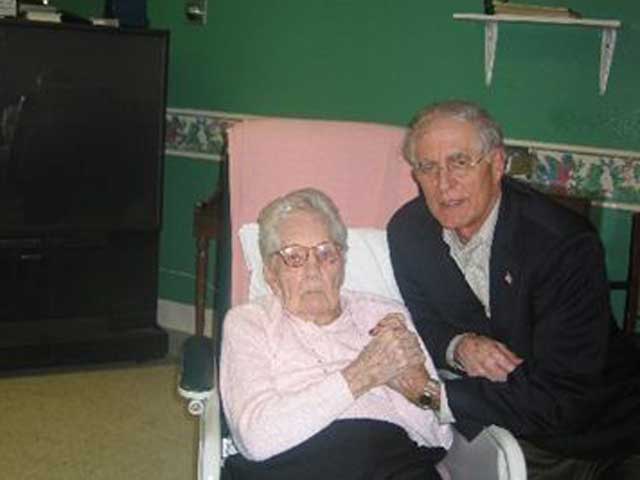 Now a word or hundred from Don Shepperd. "I think you're going to have me to kick around a little while longer. I just visited my 96-year old mother in hospice in San Antonio and I think I have at least some of her genes. I e-mailed the family and told them I thought she had 2-3 weeks left and if they wanted to see her it should be soon. They all packed up and traveled for one last emotional visit - that was two years ago. Tightwad that she is, she has determined to suck the Social Security system dry - to hell with the Babyboomers. Mother has to be wheeled everywhere and she shakes badly, a family female characteristic, but she is reluctant to let anyone help her. "I CAN DO IT MYSELF!" is a familiar refrain. She even helps feed others sitting by her at the table, especially those suffering from strokes who can't feed themselves. I watched her try to feed a tablemate, but her shaking was so bad I thought she was going to bruise the woman's face or poke her eye with a spoon. The woman ended up looking like my granddaughter after chocolate cake, so Mother laughed and cleaned her up - a sense of humor helps in hospice. Next, I show her pictures of the great grandchildren, she names them all and is surprised at their ages - big eye-furrows and head shakes; then her grandson, he is 39, and she wants to know if that is her only grandson - as far as I know, Mother." There was more but I have space limitations. Thanks, Don. I hope she makes it to at least 100.Picture shows Don with his grandmother in hospice.
Now for the Christmas card roundup. Charlie and Pat Hale traveled and saw family. Charlie still likes his work. Sons making progress in the world. Next, Larry & Penny Gooch were traveling a lot. Hosting grandkids. Penny still quilts. Larry is teaching Hispanic 4th graders. Next, John and Judy Dinsmore. Traveling and spoiling grandkids. John has added another layer of rust to his John Deere tractor collection. Judy still sewing. Next, Willie & Nancy Gray. Mucho traveling including Hawaii, Canada and the Caribbean. Expecting family for Christmas. Willie wore a fuzzy red wig on cruise. Next, Charlie & Mary Jo Price. Big trip to Africa for 2 weeks supporting a church mission. Another trip for Mary Jo's nephew's retirement from AF. A Price family reunion in Maryland. Next, Tom & Virginia Moore. Tom is teaching English to immigrants at their church. Virginia teaches piano. Older daughter, Elizabeth married a Royal Canadian Mounted Policeman. Next, Dave & Ann Whitman. Three week trip to England and Scotland. Summer family reunion in Estes Park. Next, Fred & Helen Hendryx. Will sell their house and move into a patio home ASAP. Next, Roger Smith. Still has the Underground Pub & Grill in Hermosa Beach. Visit him for a cool draft. Next, Bob and Bobbie Gibson. Still loving the job. Bob swore in older son as Marine 2Lt in March. Younger son on NROTC scholarship. Bob, at this year's reunion, watch out for those bears in the parking lot. Last, Bill & Sue Haugen. So many trips they were never at home. Sue still doing antique and bible groups while Bill is a docent at Dulles Air & Space Museum.
The 45th class reunion is Oct 31 to Nov 3. Looking forward to seeing you all there.
Go Redtags!!