March 2008
Hi Redtags,
Just got my 45th Reunion DVD from Randy and havenít finished going through it. We have company so need more time to review. I am still thinking fondly about the 45th Reunion. I ordered another set of coasters from the committee. They are so colorful.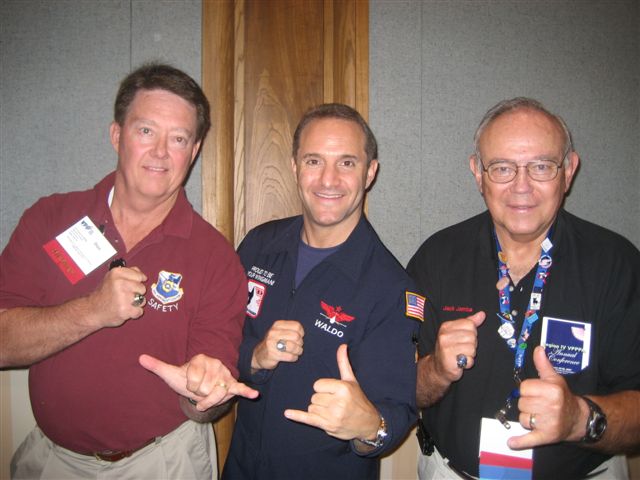 This past June, I was in charge of a conference for 600 people at a resort in Orlando. It was part of my responsibility as the Chair of the Regional Board of Directors in the Voluntary Protection Programs Participantsí Association. As luck would have it, two other grads were at the conference. One of them was our closing keynote speaker, Rob (Waldo) Waldman, also known as The Wingman, from the Class of í90. The second one was Dan Phillips, Director of Safety, at Eglin AFB, class of í78. See accompanying picture as we display our class rings.
I have an email I got from Jack Swonson before the reunion that Iíll share with you.
"Polly Ann and I just returned from a trip to the northwest (Seattle, Whistler, Victoria BC) and took the ferry to Bainbridge Island to have lunch with Butch and Debbie Viccellio. Great fun! What a fantastic mansion they have created on a spectacular lot, 200 feet above the water with the back of the house facing directly across to Seattle. The design is a three-story French chateau; immaculately accurate in every detail (e.g., all the windows and frames were made in France). Debbie prepared an exquisite lunch, and we enjoyed hearing about their recent travels to Africa.
Whistler was beautiful and enjoyable; we played golf and took the zip-line adventure. Butchart Gardens on Vancouver Island is even more spectacular than when we first saw it 21 years ago. We'll spend most of August in Japan and China, which will get us out of the Arizona heat. It was great to see Jack and Polly Ann as well as Butch and Debbie at the 45th.
I mentioned the new craze sweeping cruise ships, elder-care hostels and Redtag Reunions. Itís called spoon-sniffing.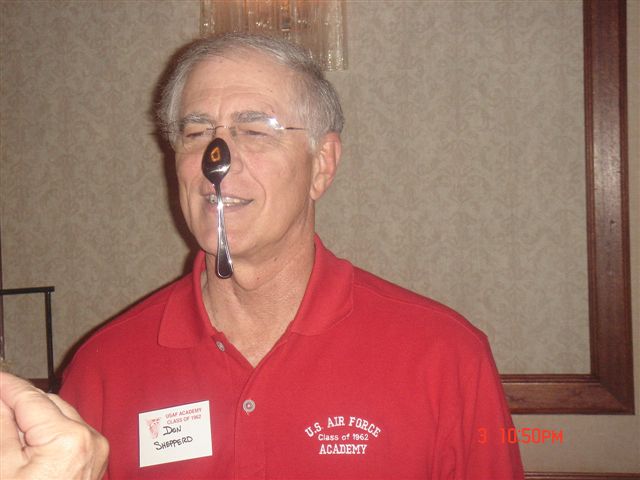 And here is a picture of our beloved, moon-lighting CNN military analyst, Don Shepperd, enjoying the relaxing feelings accompanying this new pastime.
I got together with Colin Richardson just last week and gave him a reunion coin since he couldnít make the reunion. I wangled a drink out of him for it. I showed him my reunion pictures and he had a hard time recognizing some classmates whom he hadnít seen in 45 years. However, some were recognizable. But he enjoyed hearing about the Reunion and sends his regards to all.
And now a plug for the new AOG; The AOG By-Laws, adopted in 2006, established a Class Advisory Senate. The AOG Board, at its May 2007 meeting, approved the operating procedures for the Senate. The Senate is now up and running with 31 classes represented. There are major issues facing the new Board this year. Among these are the foundation, restructuring of the AOG, revision of the By-Laws, the honor code, and results of last yearís member survey. At the 45th Reunion, the class heard a briefing by Jim Shaw, the outgoing AOG Chairman and by the Superintendent, Gen Regni.
Rip Blaisdell is our senator. He has been answering many questions on the Redtag Net and asking for input from us so that he might represent us accurately at the AOG Senate. His emails have been very insightful and informative. He can be reached at tharipper@msn.com. And you can tune into the email traffic on the Redtag net at RTBGeneral@redtags.org. Letís give him our active support. Details of how to join the Redtag net are found on http://www.redtags.org/.
Now words about the passing of Troy Tomlin. Bob Lightsey wrote: "It is with a great deal of sadness that I tell you that I received a call recently from Lanny Lancaster, who informed me that Troy Tomlin had passed away last week. I don't have any details to speak of. Lanny said the funeral was to be held in Texas, where Troy will be buried." Then Ed Martinelli sent an obituary that he got through Google. "Troy Ned Tomlin, 69, of San Jose, CA, passed away Thursday January 3, 2008 in Mountain View, CA. He was born on July 10, 1938 in Texas to Cecil William and Viola Violet (Vinson) Tomlin. He graduated from Pilot Point High School in 1956 and attended Texas A&M from 1956 to 1958. He graduated from the United States Air Force Academy in 1962. Mr. Tomlin was preceded in death by his wife, JoAnne Tomlin. He is survived by daughter, Theresa Tomlin of Palo Alto, CA; sons, Bruce Wilson and wife, Jennie of San Francisco, CA and Edward Chittenden of Danville, CA.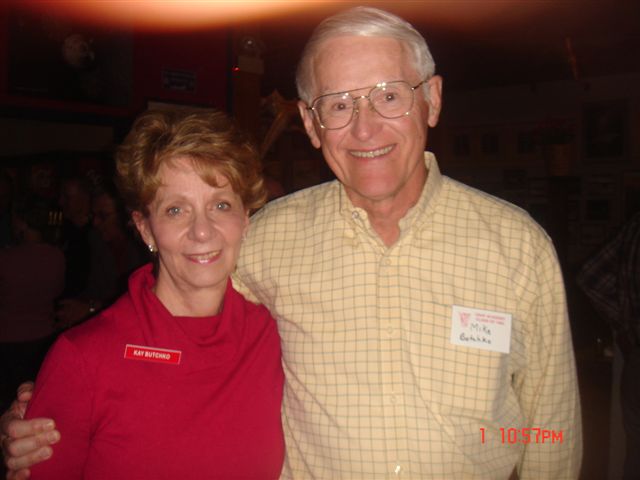 Our condolences go out to Troyís family and friends. After the news of his death appeared in the Redtag Net, someone sent the email he sent out about 10+ years ago that compared our cadet lives as Doolies to a civilian college counterpart. Troy asked how many civilian college students get to do what we did. He had never been in an airplane before he got to the Academy. I quote from his email: "Within 10 months I had logged at least 7,500 miles in the air; sung in the National Cathedral in Washington DC, with the Protestant Choir; carefully patted an atomic bomb on its smooth flank; crawled up inside an Atlas rocket; sat in on a SAC briefing with guys who would be flying at least to the Fail Safe Line, and ready to fly through it, later that day; flown at Mach 2.04 over George AFB in an F-104 Starfighter with the Fuel Low light flashing frantically ever since we arrived at the 40,000 ft level about 10 seconds after lifting off; and intercepted and, electronically at least, "splashed" a B-29 off the Golden Gate Bridge in a F-102 Delta Dagger out of Hamilton AFBÖTypical college freshman stuff. Could have probably done all that if Iíd gone to the North Texas Baptist Bible CollegeÖ" I think Troyís words will be a reminder of the times in which we became men.
I still have room for another picture, so Iíll show Mike and Kay Butchko. They had a great time there. Mike is now in Las Vegas as the COO of National Security Technologies. The security is so tight at his new work site that he hasnít located his office and has not been briefed on his job yet. Just Kidding! They are looking forward to a great time there. But they also want to move back to Austin. (Insert Pic 3)
Thatís it for now. Keep the postcards and letters coming.
Go Redtags!