MAY 2008

Hi Redtags,

Itís May and another Space Shuttle is being prepped for launch at the end of the month. Plans continue for the new launch system to replace the Space Shuttle. Many people have already started on contract work for the new launch system. Many people will be looking for new and exciting things to do as their employment at Kennedy Space Center comes to an end. For me I will probably be retired by then and starting the new phase of my life.

First Iím sorry to announce Kinney Smithís death. He had been fighting a long battle with leukemia and lost it on Feb 4th 2008. His wife and two sons were able to be with him and he was visited by Bill & Sue Haugen and Bo & Nancy Ohman. Bo had sent an email a few days before alerting us to the seriousness of Kinneyís condition. Here is part of the obituary that appeared in the Gazette in Colorado Springs.

"Francis Kinney (Kin) Smith, Lieutenant Colonel United States Air Force (Retired), went to be with Christ his Savior on February 4, 2008. Born October 23, 1938 in Avondale, NC, he is the son of the late William Duke and Ruth Cantrell Smith. He is survived by his beloved wife of 45 years, Nan Marie Augenstein Smith; two sons, Todd C. Smith and wife Marcia of Omaha, NE, and Matthew T. Smith and wife Lisa of Santa Clarita, CA; two sisters, Suzanne S. Smith of Charleston, SC, and Laura Edwards of Newberry, SC; five grandchildren and several nieces and nephews. Colonel Smith graduated from Blackville, SC, High School in 1956 and attended Clemson University for two years before winning an appointment to the United States Air Force Academy, where he was graduated in 1962. He married Nan two days after graduating. His Air Force career spanned twenty-three years and included a variety of assignments. He flew almost two hundred missions in the Viet Nam conflict. After graduate school at Florida State University, he was on the English faculty of the US Air Force Academy for three years and then was assigned as head of the Air Force Academy Preparatory School English Department for two years. After retiring from the Air Force in 1985 he was a technical analyst for Locus, Inc. for several years. He finished his working career as administrator for Churchill Baptist Church in San Antonio, retiring from that position in 2001." Iím glad that we had a chance to see and chat with Kinney at the 45th Reunion.

However, we wonít let age interfere with having a good time. Bob and Julie Davey's party on 20 April 2008 had a few Redtags present.

Crouched: Julie Davey, Pat Hale, Penny Gooch.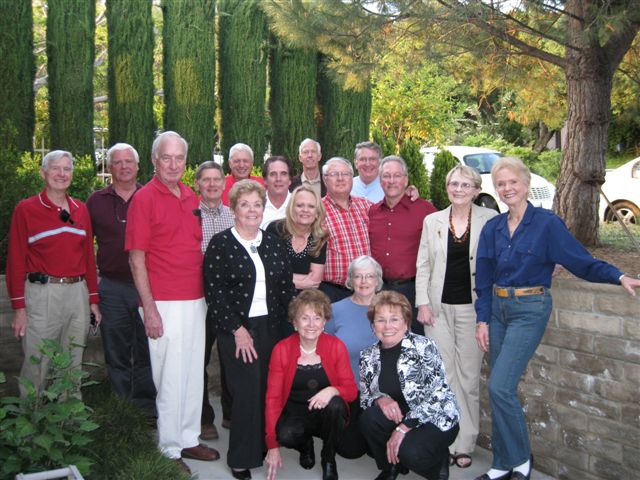 Standing: Mike Quinton, Dick Johnson, Roger Rhoades, Bob Davey, Bob Connolly, Mary Holbrow, Roger Smith, Ella (Roger's ex), Dave Bockleman, Larry Gooch, Willmore Holbrow, Charlie Hale, Judy Quinton, Pat Connolly.
It was a very happy party. Wish I could have been there.
Recently, there was a gathering of ski buffs in Utah in March at the invitation of the Class of 1960 to join their annual event. Jim Gallagherís place was to be the Redtag rendezvous place. Dave Holt writes about it to Gail Peck. "Gail, Jim thanks you for your well-wishes. (I was at his house when he received your email) It all went fabulously well -- except only four RTBs made it. Jack Swonson was only able to ski two days; then on to another commitment. Da Rippa (Blaisdell) was there for, I think four, then had to get back to CSprings to represent us on AOG stuff. So Jim and I did all we could to make the Redtag presence count. The Class of '60 guys (about 15) were most gracious and made us feel a part of everything. The skiing was absolutely perfect and a good time was had! I was a last minute cancellee on the 45th due to the coinciding of the Reunion with sudden notice of our "baby" son's Reserve unit deployment to Iraq. Obviously I was more eager than others to be there for a reunion. But I want to put in a plug for next year. Frequent gatherings are better as we lose our friends and this is definitely an outstanding reason for getting together. So I hope all the skiers will put this on their calendar for next year -- most likely, same time same place. And a public great big thank you to Jim Gallagher for hosting the RTB side of this event and to Andy Biancur, '60, for setting it up. See y'all next March. Dave" Thanks, Dave. Iíll put in a plug for more frequent reunions or gatherings. I mentioned it at the 40th. But didnít get much of a response. Think it over. Let me know.
I like this one from George Lyddane: "Hi all. Jumped in pool with cell phone. Not a good idea. Now need everyone's number. Please have mercy. George" I couldnít wait to publish that. George, I hope you got your phone numbers. Get a waterproof phone or drain your pool. Cheers!
This from Randy Schamberger. "Just to let you know that the 45th Reunion DVD orders generated a net profit of $270 after expenses which I forwarded to our Class Fund. Many thanks to all who ordered the DVDs. I got some very very nice compliments which made the effort very worthwhile. Haven't had any complaints yet. (I assume everyone has had a chance to watch them). Nothing much else happening here except for the typical aches and pains of old age. After two months off for a torn hamstring, I'm finally back on the tennis courts. Someone mentioned on the RedTag net about John MCain's age. That's when the stark reality hit that we're not too far behind him!"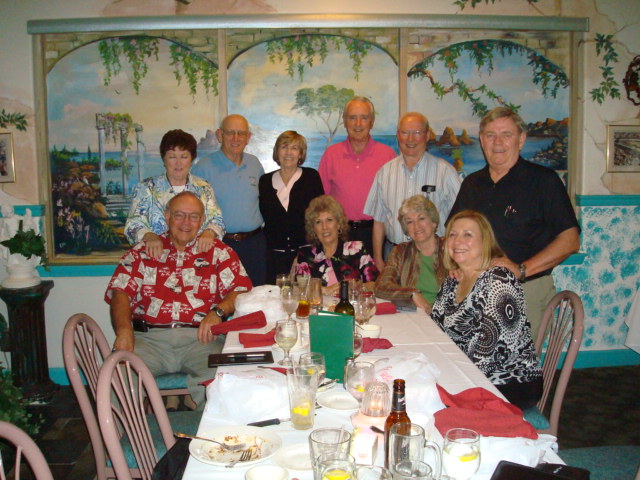 However, the Redtags in my neighborhood got together on March 29 to join with Fred & Helen Hendryx visiting from Ohio. In the picture Standing L-R: Caroline Jamba, Willie Gray, Nancy Gray, Ralph Conlan, Fred Hendryx & Bunky Reeves; seating: Jack Jamba, Pat Conlan, Helen Hendryx and Connie Reeves.
As usual we solved the countryís problems for the next year. And it took less than two hours.
And this in from Gail Peck. "Hal Rhodes and his friend Diane had dinner with Carol and me last night and we really enjoyed the visit and catchup. They are on a great road trip around the country. Was really nice to see him and meet her - a lovely lady. Hal and I called Warren Robbins on the phone and had a great chat with Robbie. He continues to struggle with the issue of strokes and worry about strokes. He was 100% lucid on the phone and he told me he can walk OK with a cane as long as the distance wasn't to great.
I know he would love to here from any of you so inclined to call him. He splits time between PHX and the Seattle area. He is now in Seattle. Phone numbers I have are: 253 838-3624 and cell 602 516-6279. Not sure which number I called last night. Robbie's son Kurt answered the phone. Regards to all RTBs."
I guess that about wraps it up. Have a great summer.
GO Redtags!