SUMMER 2008
Hi Redtags,
Well I got a chance to go to Colorado Springs in late June to tag along with my wife on HER Air Force business trip. Big change, since she previously tagged along with me. We stayed at the Peterson AFB VOQ and had opportunities to visit with a few Redtags. One evening Caroline and I had dinner with Bo Ohman and Jim Mack at Soloís, the restaurant built around a KB-97 and where the Redtagsí 45th Reunion kicked off last year. The enclosed picture shows L-R, Caroline and Jack Jamba, Bo Ohman & Jim Mack.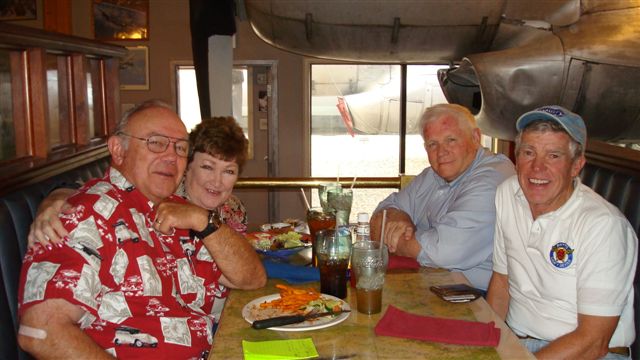 As youíll notice in the picture, part of the plane is inside the restaurant and part of the plane is visible outside the window. The plane has seating in the fuselage for about 12 couples. The rest of the seating is outside the plane. Good location. During the evening, Jim told us about one of his pastimes and repeated in an email for this column. "After WWII the open cockpit midget and "big Car" craze hit the Midwest. Several of the "Dads", my Dad included, went together to fund a racer to run the Midwest fair circuit. I fondly remember those times as a youngster. Hence, in 1990 I found and restored a vintage 1940 midget. I run the car in vintage races about 6-7 times a summer. Its V8 Ford engine pulls the car along like crazy. In fact, I call it my ol' manís F-100. Folks ask me how fast will it go & I tell them I run out of "brave" before I run out of horsepower.
My son Brian is an aircraft commander on the KC-135. I kid him that he's drivin' machines I was probably gassing up behind in Vietnam.
I couldn't "set the table" on the vintage racer thing in 50 words, so do with it what you wish. It'd be OK with me if it wasn't included at all. There MUST be more exciting things being done in our 2nd childhood than me & my little racer...
Hope all is well, Jim." No Jim, I donít think too many of us do more exciting things than mow lawns or drive our wheel chairs to the corner drug store. But, Iím not a know-it-all. So how about some inputs from the rest of you all on exciting or interesting hobbies or pastimes that you do. We would all love to hear about it.
Bo told us about his daughter and her husband and refreshed my memory with the following email today., to wit: "Nannette and her husband Ryan Menath (both class of 2001 at USAFA) are both aircraft commanders in the McGuire AFB KC-10A unit (32nd ARS, I believe). They both just got back from the sandbox after a two plus month deployment. They were happy to get back to the 95 degree and 90 per cent humidity of central New Jersey. So now Nancy and I are headed back to CO with a few stops along the way. (Editorís note: BO and Nancy were house-sitters at times)
Nannette and Ryan were in the same summer training element and became good friends, Later the relationship grew beyond that. After pilot training for both (Ryan at Vance, Nannette at Laughlin) they had a great USAFA Chapel wedding then both were FAIPs at Laughlin.
I really enjoyed our dinner at Solo's. My best to your wife, also. I hope we can get together again soon. Bo."
Later that week, we had lunch at the Garden of the Gods Country Club with Ralph & Karen Spory and Rip & Jeannie Blaisdell. A deer walked out of the brush to within 30 feet of our patio table. I would have taken its picture for this column but it wasnít a Grad. So youíll have to settle for the three Redtag couples shown here.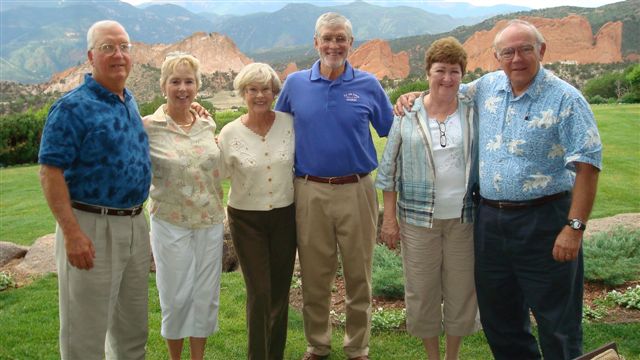 It just so happened that I was in town during the day that the cadets entered the Academy. Rip, Ralph and a few other Redtags hosted candidates for the evening before their entrance. The hosts drove the candidates to the Bring Me Men Ramp to drop them off. I didnít try to go to the entrance ceremony because I figured that I probably needed a special pass. I would say that it brought back many memories but I canít remember very much anymore. So I like to think I had a great time there exchanging jokes with the upperclassmen and giving them high fives or whatever it was we did with our hands back then.
One afternoon I had to go to Denver to see some OSHA people so I arranged to have lunch with Don Egan. It was great seeing his smiling face after so many years. We reminisced about some funny times we had as cadets. DJ is doing very well and enjoying life. But I forgot to take a picture. Next Time. On the way back to Colorado Springs, I stopped by the cemetery and found several of our classmatesí graves. I was the only visitor there. I took some pictures of their headstones. Very touching moments.
The Friday that Caroline and I left Colorado was the 50th anniversary of our entrance into USAFA. A contingent of Redtags drove down to Lowry to take some pictures of the remnants of the USAFA site there. I am restricted to three pictures per column, so I will have to wait until next issue to run the picture of that Redtag group that captured a piece of history for us.
And then I got this from Chet Griffin. "Thanks to Dick and Liz Klass for hosting a celebration of the day, a long time ago-in a land far away, our intrepid band started on one of our formative journeys. A good time was had by all, and since Lanny Lancaster is in the wine business, libations were abundant and well received.
The 'Redtags plus Babes' picture shows [L to R] (sitting): Marcy Dykes, EvaLee Griffin, Sue Haugen, and Dick Klass; (standing) Chet Griffin, Tom Moore, Bobbie & Bob Gibson, Virginia Moore, Tom Keaney, Art & Sandy Farrington, Scott Fisher, Bill Haugen, Don Hallager, Ted Dykes and Lanny Lancaster [Liz Klass was in the kitchen].
The Red Tag Babes supplied enough gourmet food to feed two armies, which helped balance out Lanny's fruit of the vine. Marcy Dykes brought her superb yeast rolls to a collective sigh of relief by those hoping she would do so.
I don't know how many of the world's problems we solved, but I think those attending would agree that we all felt the spirit of Bob Hope's theme song, "Thanks for the Memories".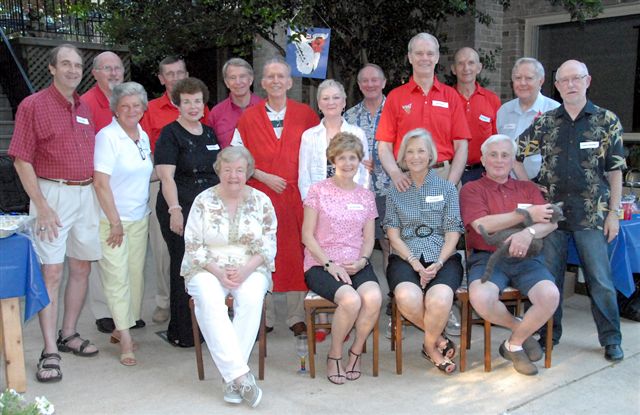 I guess thatís it for now. Keep the news and memories flowing. As my wife remarks, "Iíve been at reunions and get-togethers for about 38 years and I always hear new stories every time the Redtags get together." And I agree with her. Well, all I can say is either our memories get better with age or our Alzheimer's gets worse with age. Or we can make up some good stories on the spur of the moment. Cheers,
Go Redtags!