Spring 2009

Hi Redtags!
Easter just passed. We had an open House at KSC with two shuttles on the pads. We wonít see that very often. And Iím not sure the program will go past 2010. Hope Congress can throw some of that stimulus money at the Shuttle Program. I got the following email from Butch Viccellio in early February and put it on the Redtag Net. For those of you not on the net, here it is, "Hi, Sumo...sad to report the Sunday passing of Don Hutchinson, who was my roommate at Luke during gunnery school in '63-64. He had numerous health issues, which together caused heart/kidney failure and did him in. A terrific friend who will be missed.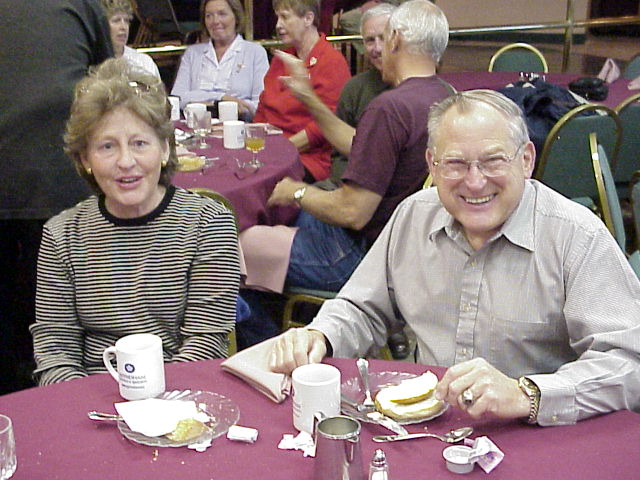 Joan tells me that in lieu of a church or memorial service, they are having a super bowl party for family and friends at home near Albuquerque. Anyway, Joan told me that Hutch had requested you be notified upon his passing, so I said I would do that. I have notified Michelle at AOG as well. Hope all is well with you guys. Butch Viccellio" Thanks for the phone call, Butch. Don was down the hall from me at the Academy and I always enjoyed that big grin and funny retorts from him.

Here is the AOG notice of Donís passing that was sent to AOG member classmates.

Gone But Not Forgotten

A memorial service is planned for Lt Col (Ret) Donald L Hutchinson on 1 Feb 2009 at 1500 hrs at his home. Lt Col Hutchinson passed away on 25 Jan 2009 in Corrales NM.

Mrs Joan Hutchinson, 10 Camino De Las Brisas, Corrales New Mexico 87048-8571.

I looked through my Class Scribe files and found this photo of Don and Joan that I took at the 40th Reunion. It is good to see and remember him as he was then. God bless Don in his great reward..

Got this from Dick Klass. "Jack, Do not know if someone else will report in more detail but Don Shepperd was honored as a USAFA Distinguished Graduate at a banquet recently as was Erv Rokke last year. Our Class activity fund donated $500 for the wine. Also, Liz and I just returned from Argentina for a nephew's wedding and took Rick Perlotto's excellent advice on dining places in Buenos Aires. Cheers, Dick." Thanks for the news. Good to hear from you.

Got another email today from Bill & Sue Haugen. To wit: "

Jack, Know you are desperate for input, so here goes. Sue & I went to Italy for two weeks in January with a group of students and some adults from little Keuka College in western New York. We had a great time - on a cultural tour of Italy. Visited Rome, Florence, Sienna, Venice, Pompeii, Sorrento, Amalfi Coast, and almost every little town in between. Great fun, and with a Cambridge educated guide plus a history professor it was outstanding. Had snow in Venice Ė which was pretty amazing. We will be doing the Great Rivers of Europe trip in October Ė from Vienna all the way up the Danube through the canals and down the Rhine river system to Amsterdam. And you only unpack once in two weeks. Go Redtags." Thanks, Bill. Sounds like youíve had fun already with more fun to come. I couldnít print your picture now since I ran into picture limitations. Save for next issue.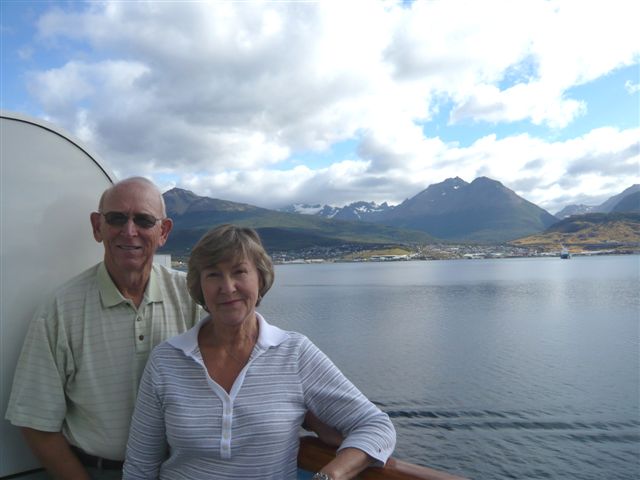 Got this from Willie Gray earlier today, "Hello Jack, I noticed in the email from Dick Klass that he had recently traveled to South America. Nancy and I returned on March 19th from a great trip to South America with five other couples. We flew into Santiago, Chile and then sailed onboard the Star Princess from Valparasio Chile to Rio. The attached picture was taken as we approached Ushuaia, Argentina. Ushuaia is the southernmost city in the world. We had great weather for the entire trip except that high winds kept us in Montevideo an extra day and as a result we missed Buenos Aires. Highly recommend this trip to anyone who has not visited that part of the world. Cheers,Willie" Thanks for sharing your adventures. See you in the neighborhood.
This just came in from Bunky Reeves. "I can see that the class is starting to travel so I though I would throw some info your way. A small segment of the RTBís from Moody AFB Pilot Training Class 64A are going to gather for the bi-annual class reunion in October 09. This time it will be a 5 day Cruise on Royal Caribbean out of Ft Lauderdale. Classmates going are Reeves, Bob Keighery, Ralph Conlan, Fred Hendryx, Lyle Wilson, and George Harrison. The other RTBís have schedule conflicts and canít attend. We will send some photos in November.
Got this from John Flanagan. "John Flanagan has once again entered the political fray and is running for Selectman in the town of Falmouth on Cape Cod. John claims long time roots there as Otis AFB was his first assignment from pilot training. The "townies" still consider him a "washashore". No problem, John. We still love you even if you are a "washashore." Thatís better than me. When I showed up in Satellite Beach, I was a "dragashore."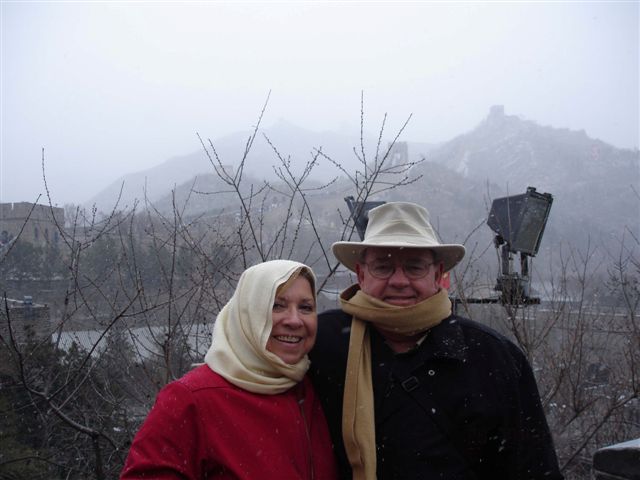 Also got this little note from Dick Smull, " Phil Merkel and Dick Smull, members of the Virginia Gentlemen barbershop quartet, participated in a local St. Patrick's Day Irish song contest. The quartet managed to win first place with their rendition of "Harrigan" and "MacNamara's Band". How about that. I have a picture of them with the other two gentlemen in shiney Kelly Green shirts. I canít show the picture until next edition because of space limitations. Hey can you picture them joining up with Bo Daughtery for a few songs at our 50th Reunion.
Connie and I just returned from a 42 day trip to the Far East. Included was a 14 day trip on Royal Caribbean from Singapore, to Thailand, Cambodia, Viet Nam (3 stops), and China, ending in Shanghai. 7 days in Shanghai then a Viking River Cruise/Tour from Shanghai to Wuhan up the Yangsee River (three gorges and three gorges dam) to Chongqing (Chungking), fly to Xian (terra cotta warriors), then on the Beijing. Two photos attached on the river and snow at the great wall. The attached picture shows Connie and Bunky bundled up against the cold (Insert Pic 3). What a trip, China is impressive, we would go back any day, but too many other places to see and things to do. Maybe in 2-3 years. " Thanks, Bunky. Best to Connie.
Thatís it for now. I fell behind and missed my original deadline for this column. I got an extension and asked for some quick input from you all. The quick response was great, with pictures, no less. Thanks a million and stay in touch. If you have something you want to share in the next Checkpoints, send it in by May 31 unless I get a sooner deadline.
GO REDTAGS!